SWPL: Hibernian beat Rangers but have Murray & Robertson sent off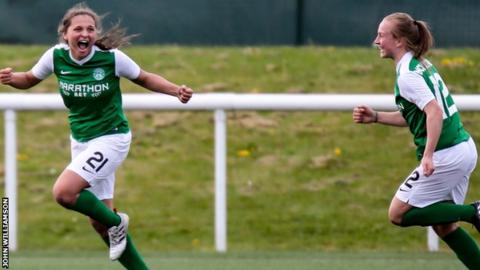 Hibernian beat Rangers 4-1 to set up a likely title decider with Glasgow City, but the win came at a cost with two players sent off.
Both captain Joelle Murray and midfielder Lisa Robertson received second yellow cards, ruling them out of next Sunday's clash with City.
Glasgow City stay two points ahead of Hibs with two games left after beating Stirling University 3-0.
Spartans beat Celtic 3-2, and Aberdeen were 3-0 winners over Hamilton.
The Dons' win over Accies was their first of the season, and kept alive slim hopes of avoiding relegation, with four points now separating them from second-bottom Hamilton.
Hibs see red
The second meeting between Hibs and Rangers in four days was a big one. Kevin Milne's side needed to win to keep their title challenge on track, while Rangers were reeling from Wednesday's 2-0 loss in Edinburgh.
Hibs dominated the early exchanges, but had Rangers' Lauren Davidson hit the target when she found space on the right, the game could have had a different outlook.
Instead, it was only a matter of time before Hibs' pressure told and Kirsty Smith cut onto her right foot on the edge of the six-yard box and slotted home the opener.
Abi Harrison was desperately unlucky not to make it 2-0 minutes later when she brilliantly juggled the ball in the box, then lobbed a shot off the post.
The woodwork denied Hibs again when Rachael McLauchlan's cross was headed off the bar by Robertson.
Hibs hit the woodwork for a third time after 29 minutes, but this time it was on their side as Rachael Small swept a left-foot shot off the bar and in.
Rangers went close through a goalmouth scramble, with Chelsie Watson and Hannah Coakley both denied. In the melee Rangers also felt they should have had a penalty for handball.
It was a brief reprieve from more Hibs pressure. Harrison's volley was well saved, before Emma Brownlie's cross found the head of Small but she could not get enough on it to steer it home.
The third did come before half-time through a penalty. Rangers goalkeeper Jordyn Elliot needlessly grabbed the arm of Harrison and pulled her down. It was a challenge that didn't need to be made, with the Hibs striker still having a lot to do and plenty of blue shirts back to defend.
Elliot got a hand to Siobhan Hunter's spot-kick but could only push it off the post and over the line.
Rangers refused to wilt and they had plenty of chances in the second half. Chantelle Brown, Amy Muir and Jenna Clark all threatened.
Brown took a great shot on the volley that was just wide, but found the net a minute later when she jinked her way through the Hibs defence and found the corner.
At 3-1 it still looked a comfortable finish for Hibs, but then controversy reigned with two quick red cards.
First Murray received a second yellow card for contesting a free-kick. It appeared the Scotland international had simply shook her head in dismay, but the referee ordered her off.
Shortly afterwards, Robertson's late challenge also saw her receive her marching orders.
That wasn't the last of the action. Holly Napier's free-kick was tipped over for Rangers before at the other end, Katey Turner went on a marauding run only to be denied by a fine last-ditch challenge from Coakley.
From the corner kick, Harrison cracked a superb shot into the top corner to make it 4-1.
Hibernian head coach Kevin Milne: "All season there's been no sendings-off and then you get two in 10 minutes, so that's disappointing. But we just have to deal with that.
"I can't remember Lisa's first booking to be honest but the second was a late challenge. I've not spoken to Joelle, I don't know what she said.
"City won 3-0 so our win keeps us in it, but everything is going against us at the minute in terms of personnel."