Kilmarnock boss Steve Clarke talks up Scottish football after win over Hearts
Last updated on .From the section Football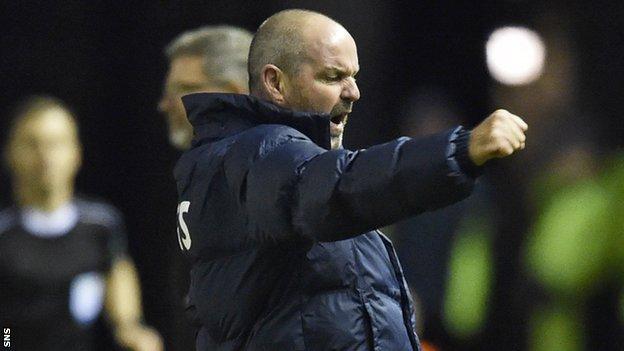 Steve Clarke celebrated his first win as Kilmarnock manager by saying it is time to stop talking down the quality of Scottish football.
"I think the levels are okay," he told BBC Scotland after a 2-1 win over Hearts at Murrayfield.
"Scottish people are very good at running down their own game and I think we should be a little bit more positive about it and try to push the game.
"Let's talk up the good things about Scottish football."
Clarke, who took over at Rugby Park after the exit of Lee McCulloch, had a long playing career in England with Chelsea before managing West Bromwich Albion and Reading.
He was also assistant at Newcastle United, Chelsea, West Ham United, Liverpool and Aston Villa ahead of his move back to his homeland.
"Basically, that's what the English Premier League do - they sell their game all the time," said the former Scotland full-back.
"I've seen some bad Premier League games as well and it's the same in Scotland - you'll get a lot of good games at a weekend, you might get one bad one and everybody highlights the bad one."
Clarke had led Kilmarnock to draws away to Rangers and Celtic before a midweek defeat at home to Hibernian ahead of Sunday's trip to Edinburgh.
"I'm delighted from a selfish point of view to get my first win as manager," he said.
"It was important for the team on the back of some really good performances since I came into the club that we got that win."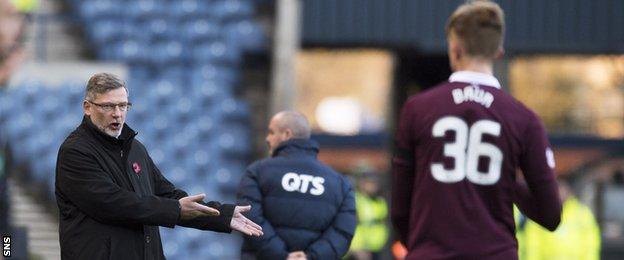 Kilmarnock went ahead through Kris Boyd after half an hour and, after Isma fired a second-half equaliser, Adam Frizzell secured the three points four minutes from time.
"We went behind at Ibrox and got a point, we went behind at Celtic Park and got a point and, when we got pegged back here, it would have been easy to fold, especially on the back of a difficult physical game in midweek against Hibs," said Clarke.
"But the lads showed their character, dug in and got the winner and I think, overall, over the 90 minutes, we deserved to win this game."
'There's a lack of confidence' - Levein
It was Hearts' third consecutive defeat in their last game before moving back to redeveloped Tynecastle Stadium, after four home games at nearby Murrayfield, Scotland's national rugby ground.
Manager Craig Levein is not unduly worried though. "I'm looking forward to getting back to Tynecastle. I think that'll help everybody," he said.
"We've been away constantly, we haven't really put three, four or five games together when everybody's been feeling good and passing the ball well. I think there's a lack of confidence.
"We have been in a situation over the last three or four weeks where we have had good players missing.
"The good thing from my point of view is we that we get four, maybe five back for our next game, which will be back at Tynecastle. So that in itself makes me feel quite confident."
Levein admitted that the first-half performance had been "really poor" as nerves and anxiety got the better of his young side, but thought they dominated after the break.
"I didn't see them scoring as a scenario given we'd had about 75% of the play in the second half," he added.