Antonio Conte: How win over Man Utd showed Chelsea boss is still up for the fight

By Phil McNulty
Chief football writer
Last updated on .From the section Football101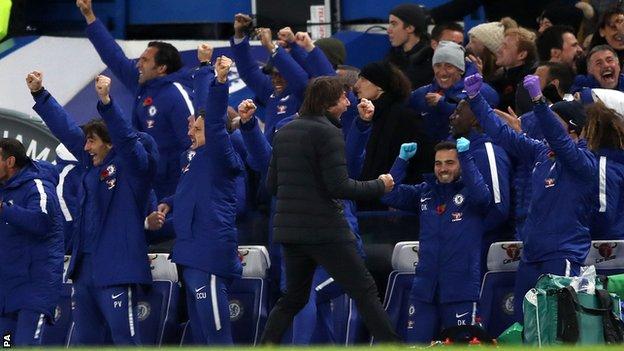 Chelsea manager Antonio Conte was finally able to laugh off the constant noise surrounding his long-term Stamford Bridge future after a turbulent victory over Manchester United that illustrated the intensity and desire that still fuels the combustible Italian.
Conte was not interested in talk about his own position, brushed aside an understandable inquisition about David Luiz's exclusion, then swept away suggestions he had ignored niceties and tradition with a failure to shake Jose Mourinho's hand at the conclusion of this 1-0 win.
It was just what Conte required, and very obviously relished, after the disappointment of a heavy midweek Champions League loss to Roma.
So why has Conte been under pressure?
Simple answer - he is Chelsea manager and history informs us every Blues boss is under pressure no matter what level of success they have enjoyed.
Mourinho's first spell brought Premier League title wins in 2004-05 - the club's first for 50 years - and in 2005-06, but in September 2007 he was gone after the breakdown of his relationship with owner Roman Abramovich.
The Portuguese suffered an even more spectacular departure in his second spell, sacked in December 2015 just seven months after winning his third title at Chelsea.
Carlo Ancelotti was dismissed minutes after Chelsea's final game of the season at Everton in May 2011, just 12 months after winning the league and FA Cup double, while Roberto di Matteo was sacked after six months in permanent charge, despite winning the FA Cup and the Champions League as a caretaker in 2012.
This is the Chelsea context, so it is no surprise Conte should be at the centre of speculation he may not be a long-term occupant of the managerial office, despite winning the Premier League quite brilliantly in his first season.
The 48-year-old Italian appeared unsettled in the summer before finally signing an improved two-year deal, although not an extension on his original three-year contract after rumours his relationship with Chelsea's hierarchy had become uneasy and he was also unhappy with summer transfer activity.
Chelsea's shock 3-2 defeat by Burnley on the opening day of the season only reaffirmed the feeling of unease - but the win over United puts Conte's side back in the top four, albeit nine points behind leaders Manchester City.
A home defeat by City, plus a shock loss at Crystal Palace - who had not scored in or won a Premier League game until then - increased the feeling that Conte's champions were struggling even before that heavy defeat in Rome, although a magnificent victory away against Diego Simeone's Atletico Madrid in the Champions League should not be forgotten.
There has also been speculation emanating from Italy that Conte could return next summer, perhaps to his former job as coach of the national team or to AC Milan, the latter again receiving short shrift from the Chelsea manager.
And whereas progress was serene last season - a bust-up with Diego Costa in January being put on one side to ensure the main business of winning the title was completed - Conte has occasionally shown his frustration with the sub-plots swirling around Stamford Bridge.
This was most graphically and colourfully illustrated when he furiously dismissed stories that his old friend and compatriot Ancelotti was being lined up in the wings to return to Chelsea, while also forcefully repudiated claims players had been texting his former coach Steve Holland, which the club also rejected.
Conte demonstrated his command of the more industrial aspects of the English language to express his contempt for those suggestions, but it was another episode suggesting life has not been quite as smooth this season.
He desperately needed to beat United, not only to keep Chelsea within touching distance at the top of the table but just to silence that ever-present noise around Stamford Bridge.
Conte up for the fight
From the moment Conte marched up the tunnel at Stamford Bridge, with Mourinho very pointedly waiting at the top of the stairs to greet Chelsea's players, staff and their manager, it was clear he meant business.
An ice-cold exchange and barely a handshake with Mourinho, with whom there have been verbal jousts since he succeeded "The Special One" at Chelsea, set the tone for what was occasionally a fiery afternoon.
Mourinho was relatively subdued compared to the ball of perpetual motion that was Conte.
He prowled his technical area, span around in a frantic, arm-waving fury when Tiemoue Bakayoko missed an easy chance, waved an imaginary yellow card when Antonio Valencia floored Eden Hazard and even interrupted the celebrations for Alvaro Morata's winner to fire animated instructions in the direction of Davide Zappacosta.
And after a conclusion to the game in which he resembled a man whose shoes were threatening to catch fire as he danced around his technical area in the closing seconds, he spared no thought for the beaten Mourinho - or the tradition of shaking hands with your opposite number - to march onto the pitch to thank the officials, bear hug his players, shout "come on" repeatedly to all four corners of Stamford Bridge before pumping his chest several times with his fist as he disappeared out of sight.
The body language spoke of tension released, a pressure valve released. Until the next time.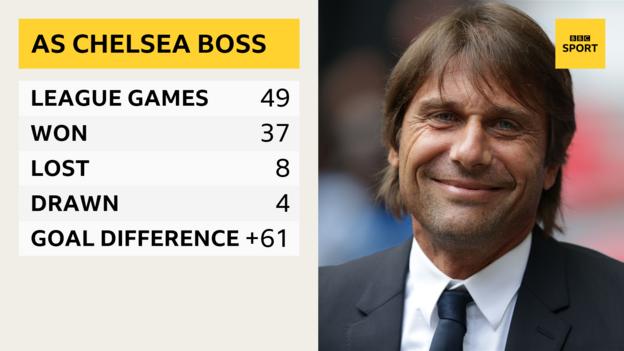 Clouds clearing thanks to Kante?
The figure regarded as Chelsea's greatest summer folly was standing only yards away from Conte - namely Nemanja Matic, the giant who was a title-winning midfield enforcer in last season's title win.
There was general bemusement that Matic had not only been allowed to leave, but leave for Manchester United and a reunion with Mourinho.
The wisdom was that Chelsea had not only weakened their own hand with the sale of the 29-year-old Serb, but at the same time had markedly strengthened one of their closest rivals.
It is an argument with merit but the concerns may just have eased with the return to fitness of N'Golo Kante after three weeks out with a hamstring injury suffered on international duty with France.
Bakayoko is still very much a work in progress but Kante's comeback gave Chelsea a world-class operator in midfield and at least something of the look of the side who won the title so impressively.
Conte could use this pair to free Cesc Fabregas into a more positive role, allowing the Spain international to create six goalscoring opportunities in this match. No other Chelsea player provided more than one.
And Conte still had the luxury of bringing on Danny Drinkwater, Kante's old title-winning midfield partner in crime at Leicester City, to shore up the victory.
With Morata on target again with a towering header and Andreas Christensen showing his growing maturity, Conte looked a lot happier with life and the strength of his squad in his post-match briefing.
The final judgement on the decision to sell Matic can only truly be made at the end of the season - but it does not look quite as damaging when Kante is back and seemingly doing the work of three men in midfield with such ease.
Chelsea, despite the loss to Roma, are in a strong position to reach the Champions League group phase, are still in the Carabao Cup and now stand just one point off second-placed United after this win.
So it has hardly been a crisis.
Conte willing to make the big calls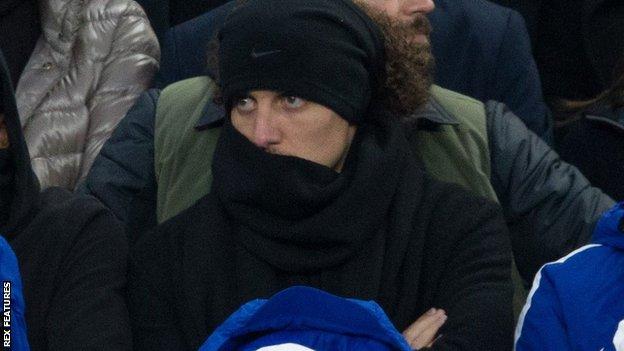 Conte demonstrated his ruthless streak with his dismissal of Costa from his plans at the end of last season, despite the striker finishing as top scorer with 20 league goals as Chelsea won the title.
He was out, Conte laughing uproariously at Costa's claims he had been treated harshly, and Morata was in as the striker he said he wanted all along, despite the perception Chelsea had been outflanked by Manchester United in the chase for Romelu Lukaku.
And Conte was at it again on Sunday, banishing defender Luiz from his squad entirely after his disappointing display against Roma.
Conte was also in no mood to give the Brazilian any solid assurances about his long-term future as 21-year-old Dane Christensen impressed. He had Antonio Rudiger and Ethan Ampadu on the bench while Luiz sat in the stand, his head wrapped in a black scarf.
He said, cryptically: "David Luiz has to work with the others if he deserves to play, otherwise he will stay on the bench or in the stands."
And on Luiz's future, the Italian added: "I don't know. Christensen is the present and the future for Chelsea."
Conte later insisted the decision was "tactical" and Luiz could figure on another day - but this was another example proving he is ready to sacrifice the big personalities inside Chelsea's dressing room, win or lose, for the greater good.
Conte still the darling of Chelsea's fans
It may have been a reaction to the presence of Mourinho standing just a few yards to his right, but it was only a matter of seconds into the game before Conte's name was echoing around Stamford Bridge in a thunderous roar.
And as he took the acclaim once more at the final whistle, the home fans rose to their feet for the 48-year-old, who still retains hero status after taking Chelsea from 10th to the title in his debut season.
The life of a Chelsea manager is never predictable - but this was a good day for Antonio Conte.