Garth Crooks' team of the week: Morata, Salah, De Bruyne, Kante

By Garth Crooks
Football analyst
Last updated on .From the section Football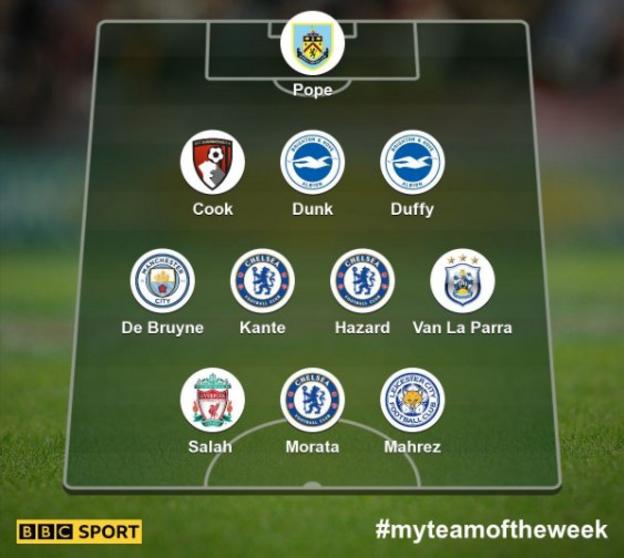 Manchester City's unbeaten start to the season continued with a 3-1 win over Arsenal which stretched their lead at the top to eight points.
Jose Mourinho made an unhappy return to Chelsea as his Manchester United side were beaten 1-0 at Stamford Bridge, while Tottenham edged past Crystal Palace.
Liverpool thrashed West Ham 4-1 and Everton came from behind to pick up their first win under David Unsworth against Watford.
Elsewhere, Huddersfield, Bournemouth, Burnley and Brighton all won 1-0, and Stoke drew 2-2 with Leicester.
You can see who made my team of the week below but, first, have a go at picking your own.
You can pick your own team of the week from the shortlist selected by BBC Sport journalists and share it with your friends.
Pick your Team of the Week
Pick your XI from our list and share with your friends.
If you can't see the selector, please use this link to pick your XI.
Goalkeeper - Nick Pope (Burnley)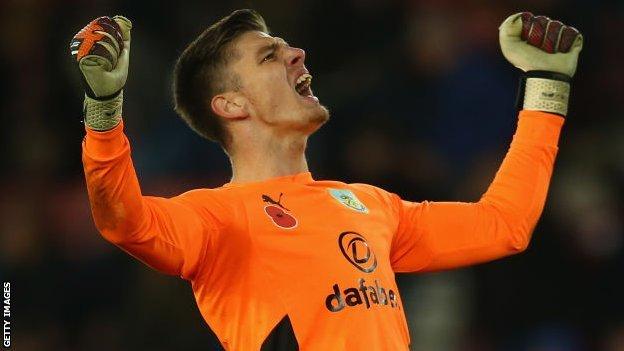 Nick Pope's save from Southampton's Sofiane Boufal wasn't bad, and his dive to his right to stop a certain goal from Nathan Redmond was very impressive. However, it was his push over the bar from a super strike from Maya Yoshida that was the match-saver for Burnley, at a time when I thought they were taking a bit of a hammering.
Pope has done brilliantly for the Clarets since he took over from the injured Tom Heaton. Not only did he keep his team in the game against Southampton but he provided them with a platform to go on and win it.
The victory has also put his manager, the much-talked-about Sean Dyche, in a very strong position. In five years, Dyche has turned this famous old club into a Premier League outfit and done it on buttons. Why a bigger club (sorry Burnley) haven't come in for him I can't say, but what exactly are Everton waiting for? In the absence of other exotic managers, Dyche fits the Everton job specification perfectly. An English manager with suitable Premier League experience, can work to a budget, a good record in the transfer market and can spot a player. What else do Everton want?
I have a lot of time for David Unsworth but the Premier League is not a job centre looking for worthy applicants or, worse, Opportunity Knocks. Would-be candidates should have a track record or have something to show that they can at least do the job. If Everton want to give Unsworth a crack then that's fine, but the new owner needs to understand this is Everton and not Melchester Rovers.
Defender - Steve Cook (Bournemouth)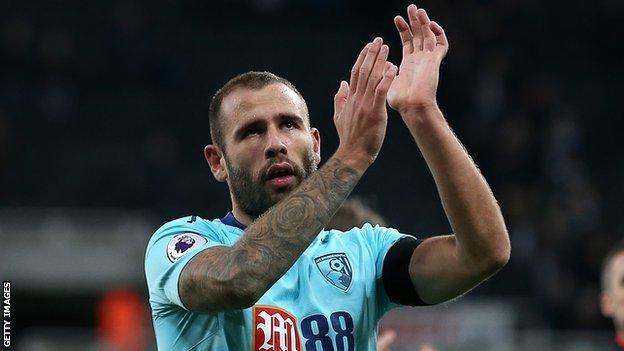 Bournemouth's game against Newcastle would have been the best 0-0 draw of the season had Steve Cook not risen like a tower to nod home a fantastic winner for the Cherries. On reflection, they probably deserved it.
I thought Cook's header was absolutely brilliant, matched only by the players' celebrations and the kisses blown to the Bournemouth supporters who had travelled all the way to the North East. Cook didn't out-jump one Newcastle defender but two, and the elation that followed was clearly immense. Keeping a clean sheet is one thing but having the ability to go up the other end and affect the play so emphatically was something else entirely.
Scoring goals has always been the most difficult thing to do on a football pitch, and for Cook to do it in such dramatic circumstances must have been very painful for Newcastle.
Defender - Shane Duffy (Brighton)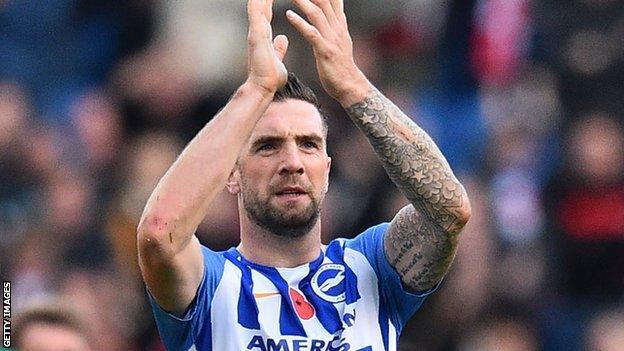 I keep looking at Brighton's results, and their current position in the Premier League, with utter disbelief.
When I saw the Seagulls play Manchester City in their opening fixture, I was convinced they would struggle to get 20 points. Well, they've knocked that theory into a cocked hat as they are on 15 already this season.
The faith Chris Hughton has in his players must be immense and Shane Duffy certainly ranks amongst one of his best. His clearance to stop a cross destined for Tammy Abraham to side-foot into the net in the opening exchanges against Swansea was as intuitive as it was brilliant.
In contrast, Swansea have Federico Fernandez, who froze in the box in a way I have never seen from a central defender to allow Glenn Murray to score. If Fernandez freezes every time he recognises he's in danger or out of position, and is incapable of retrieving the situation, he has to ask himself if he is playing in the right league.
Defender - Lewis Dunk (Brighton)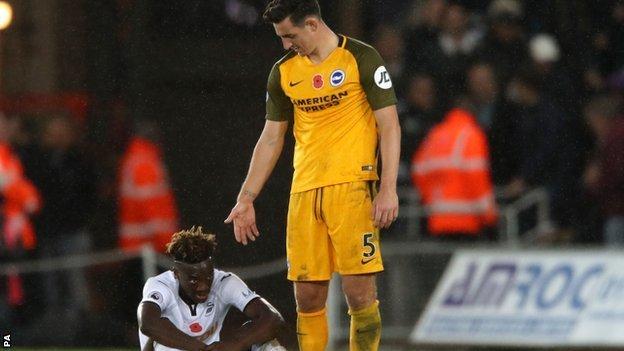 Lewis Dunk's block on Abraham's shot in the dying moments of Brighton's win was about as emphatic a message as he could have given Swansea. The message was simply: 'You are not scoring today.' Indeed, the block was so solid I thought Abraham had broken his ankle on Dunk's boot. The newly called-up England striker was so desperate to announce his rise into the international squad with a goal, he didn't realise Dunk had got to the ball first but swung his foot in desperation anyway.
Chris Hughton is doing such a fantastic job at Brighton it is almost an indictment that Everton have not approached him to fill their vacancy. I have already recommended Sean Dyche for the post, but I can't mention the Burnley manager without mentioning Hughton in the same breath. Hughton has, unlike Dyche, done the business at a number of clubs and is a conservative manager in the sense that he will not spend a chairman's money recklessly. He is respected by players, in a way the great former Everton manager Harry Catterick was adored by his playing staff, and is perfect for a club like Everton.
Remember Hughton has already handled a big club at Newcastle before being unceremoniously shown the door. Everton, unlike other clubs, don't do flash and that is why Hughton is another excellent candidate.
Midfielder - Kevin de Bruyne (Manchester City)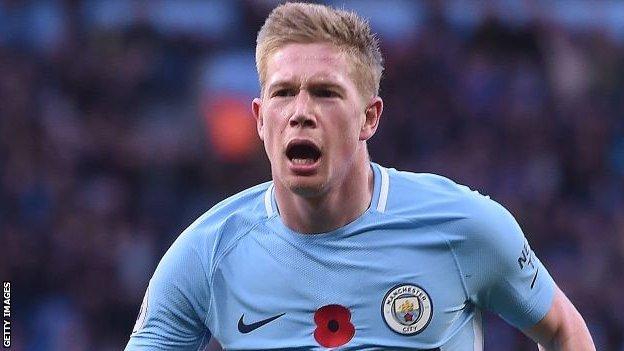 Based on my TOTW selections, Kevin de Bruyne is on target to be my player of the season. We know all about his assists, but I think his ability to score goals is just as good. Quite apart from anything else, there can't be many players in the modern game who can strike the ball so cleanly.
Against Arsenal, Petr Cech made the mistake of not holding his first strike, an error compounded by his defenders giving the ball back to De Bruyne in order to give the Belgian another crack at goal. This time he didn't make any mistake. The ball ripped past Cech and set Manchester City up for a well-deserved victory.
I admit City's second goal was offside, but I couldn't see the Gunners getting anything out of the game. City are playing some glorious football - it must be an absolute pleasure playing for Pep Guardiola at the moment.
Midfielder - N'Golo Kante (Chelsea)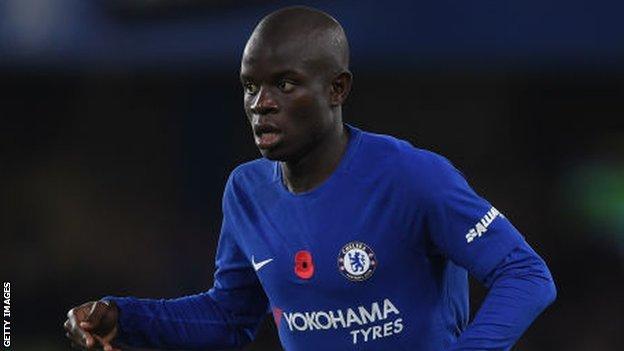 It was no coincidence that Chelsea kept a clean sheet against Manchester United. They needed a couple of important saves from Thibaut Courtois, but more than anything they needed N'Golo Kante. The silent force was back after a nasty hamstring injury he suffered playing for France - and he was back to his best, covering the park like a gazelle.
Cesar Azpilicueta had another marvellous game in defence for Chelsea, but I simply ran out of places to include the Spaniard again this week.
As for Manchester United, well, Jose Mourinho was surprisingly reasonable in his news conference after the game. His analysis about the Premier League not being like any other league is spot on. Unlike Serie A, the Bundesliga or La Liga, any team can beat anybody on their day. So even if United are eight points behind Manchester City, a congested fixture list in December and January could provide him with the snookers he needs to get back in contention with the noisy neighbours. And he needs them.
Midfielder - Eden Hazard (Chelsea)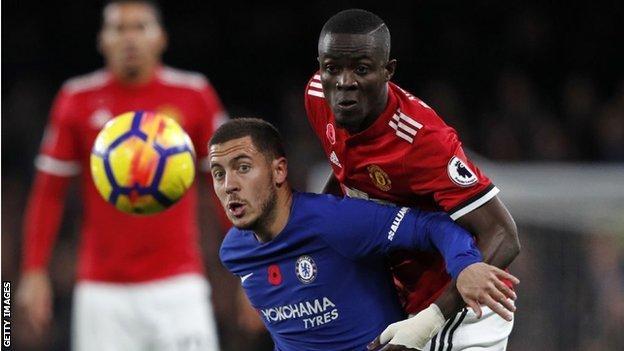 The frosty handshake between Antonio Conte and Mourinho before the game set the tone. This was always a big game, and the words said beforehand simply added to the tension. Chelsea needed that to shake them out of the inertia they were suffering from against Roma in the Champions League in midweek.
Eden Hazard did his best against Roma but not even he could energise his team. It was a different matter entirely against Manchester United. You just know when players are up for it and, from the kick-off, Hazard had every intention of hurting United whenever possible.
Conte said in his news conference afterwards that his players had played with enthusiasm, commitment and passion. Is it any wonder his players approached this game with those very important elements? Anyone who saw Conte's reaction to his team's victory was left in no doubt that here is a man who puts himself on the line for his players. Whipping up his team and the home support in an almost frenzied manner is precisely what Conte must do to inject the belief they need to be serious contenders to Manchester City, and to have any chance of retaining the title.
Midfielder - Rajiv van La Parra (Huddersfield)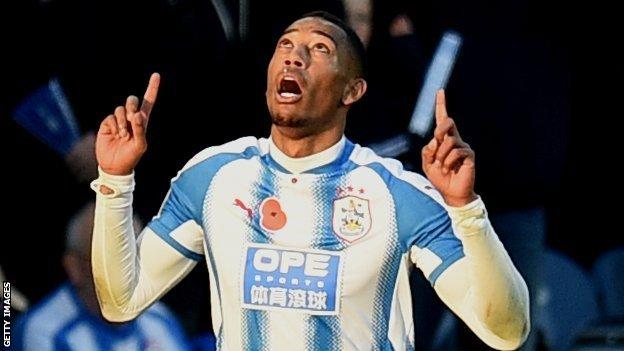 I couldn't possibly select my TOTW without including what must be a candidate for the goal of the season. Rajiv van La Parra's match-winner against West Brom was such a glorious effort I could watch it a thousand times and not get bored. I had to see the strike from the camera angle behind the goal to really appreciate the quality of the finish - it gives you a much greater appreciation of how La Parra collects the ball, takes a look at the target, lines up the shot and executes it with such excellent precision. Ben Foster could only watch the ball fly past him into the top left-hand corner of the net.
West Brom were unlucky to lose against the Terriers, and had it not been for Jonas Lossl they wouldn't have done. The Huddersfield goalkeeper was superb in the final minutes of the match.
David Wagner and his boys are having one hell of a ride at the moment, buoyed by their marvellous fans. How long it continues depends on the ambitions of the club. Staying in the Premier League can be extremely expensive, but the rewards can be immense. Huddersfield clearly have the right man at the helm - the question I would pose is: Do they have the right men in the boardroom?
Forward - Mohamed Salah (Liverpool)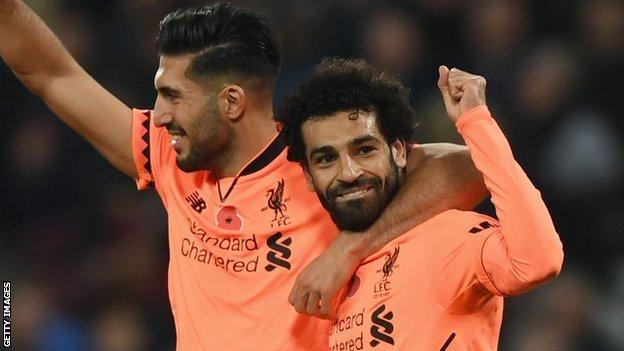 Liverpool's game at West Ham was barely a contest. Not because the Reds were special, but because their hosts were so bad.
Mohamed Salah makes my TOTW - and quite rightly. The Egypt international was too quick, too skilful and far too impressive in front of goal to give the Hammers any chance of coming away with anything from this game. Six goals in five games, and 12 for Liverpool in all competitions so far this season, says it all really.
After West Ham's impressive performance at Crystal Palace last week, I was expecting to see a continuation of the spirit they showed. I watched in utter disbelief. It's been a long time since I have seen a team so desperately lacking in confidence. In fact, it was almost a crisis in confidence. I'm not entirely sure who is suffering more in that department - the manager or the players. I have always believed the game is about having the players to do the job but you need a manager to inject that belief especially when it's waning.
I have been a big supporter of Slaven Bilic since his arrival at Upton Park, and supported him through the difficult transition to London Stadium, but after his post-match interview I think Mr Gold and Mr Sullivan may need to save him from himself. It's becoming torturous.
Forward - Alvaro Morata (Chelsea)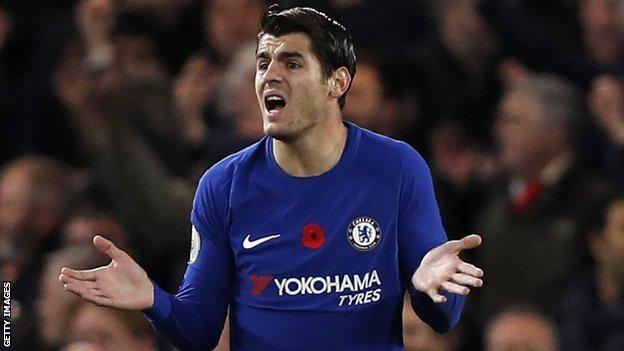 What a header by Alvaro Morata. The modern game has changed to such an extent you simply don't see many classic headers like the one Morata scored against Manchester United. But, more than that, it was the way the Spain international led the line and linked up with Hazard that must give the Stamford Bridge faithful some reason to believe that retaining the title is not completely out of the question.
Chelsea will need to wrap Morata in cotton wool in order to get him through a Premier League season. Fixtures during the Christmas and New Year periods can make or break a team, not to mention a player's form, and Morata looks more like a thoroughbred stallion than a Hereford bull. That said, Conte is no pushover and his response to leaving David Luiz, arguably his best player last season, out of the line-up against United, proves he is in no mood to take any nonsense from any of his players and expects complete and total commitment from everyone regardless of their perceived status.
I think Morata is a very different personality to Luiz, but if Conte wants to win the title that already appears to be slipping away, he has to manage all his players all the time regardless of their personality.
Forward - Riyad Mahrez (Leicester)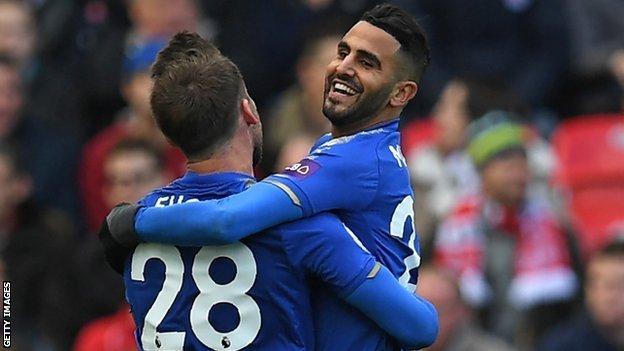 It's looks like Riyad Mahrez is enjoying his football again. This is the second time he has made my TOTW in consecutive weeks. Last week he was in sparkling form against Everton, and at Stoke he was skipping past defenders as though they weren't there.
It was Mahrez's beautifully flighted corners that caused Stoke so many problems throughout the game and led to Leicester's first goal. Mahrez then had a shot from all of 35 yards that seem to waltz its way towards the goal before dipping so viciously it took all of Jack Butland's skill and ingenuity to keep this rocket of a strike from going into the net. How a player built so slightly can generate so much power never ceases to amaze me. Yet it was his goal that was so impressive. Having floated past Erik Pieters and danced around Kevin Wimmer, he smashed it past Butland.
This Leicester side is suddenly showing a lot of promise again, but seems to lack the ruthlessness in defence that Robert Huth gave them during their title-winning season and they need to get that back very quickly.