Guernsey FC boss Tony Vance frustrated by 4-2 Herne Bay defeat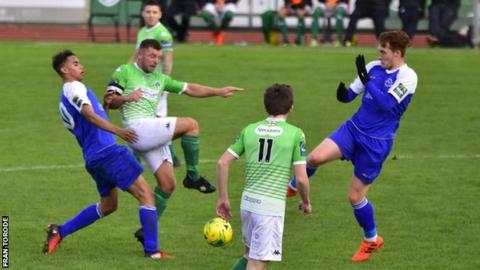 Guernsey FC boss Tony Vance says his side failed to take their chances in their 4-2 loss at home to Herne Bay.
Dave Rihoy and Ross Allen scored for Guernsey, who never led and had their three-game unbeaten run ended.
"The first 35 minutes I thought we were outstanding, some of the best football that we've played in a long long time, maybe even at this level," Vance said.
"Frustratingly the ball didn't go in the back of the net for us and that would have been the icing on the cake.
"We've got some players who are on fire at the minute with regards to their ability to put the ball in the back of the net," added Vance to BBC Radio Guernsey.
"They've certainly done that in the last five or six weeks, but unfortunately it wasn't happening."
Test of character
The defeat was Guernsey's first in a month and ended a run of four wins in seven games, having lost eight of their first nine matches this season.
"It's an interesting test for us now," Vance said.
"Everyone's enjoyed a bit of a honeymoon period with regards to a good run where things have gone for us.
"They've won together, lost together, trained together and travelled together and the bond has been fantastic, that's off the field as well.
"Everyone's been really excited the last five or six weeks, and now comes a little test of everyone's character, and I'm looking forward to seeing how they take a couple of slaps on the cheek and see if we can step forward again."