Denis Onyango says 'local coaches not ready for Uganda job'
By Andrew Jackson Oryada
BBC Sport, Kampala
Last updated on .From the section Football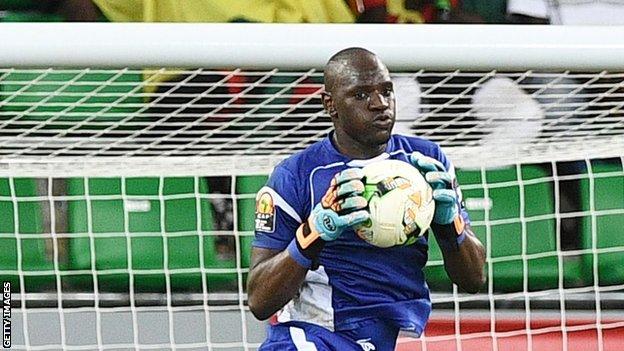 Uganda captain and goalkeeper Denis Onyango has made it clear that he does not feel local coaches are ready to take charge of the national team.
The Federation of Uganda Football Associations (Fufa) are hoping to name a new coach on 15 November, with interim coach Moses Basena among the applicants.
"Although we need to start trusting our local coaches despite their weaknesses, they need to step up and stand their ground on certain things," Onyango told BBC Sport.
"I don't see in Uganda local coaches who can take decisions and own them."
The 32-year-old goalkeeper, the current African Player of the Year based on the continent, added that someone with experience in Africa and who speaks English is crucial.
"Due to the nature of the players we have, there is certain kind of football that we cannot play and so we shouldn't bring in a coach who will have to start from scratch to learn the African style and approach," he said.
"It is very important for us to return to the the Africa Cup of Nations in 2019 and that has got to do with the kind of coach who will be appointed, we could easily fail if we have a coach who cannot fit well with our style."
The chairman of the Confederation of African Football's technical committee and former Zambia player, Kalusha Bwalya, is helping Fufa with the recruitment process.
The new coach will replace Milutin 'Micho'Sredojevic, who terminated his contract two months ago, because of unpaid salary, after the Serbian guided Uganda to qualify for the 2017 Nations Cup after a 39-year absence.
The new coach will be boosted by a new sponsorship deal for the national team worth US$2.7 million over the next four years signed with telecom giants Airtel.