David Moyes: West Ham taking a gamble on a manager looking at last chance

By Phil McNulty
Chief football writer
Last updated on .From the section West Ham493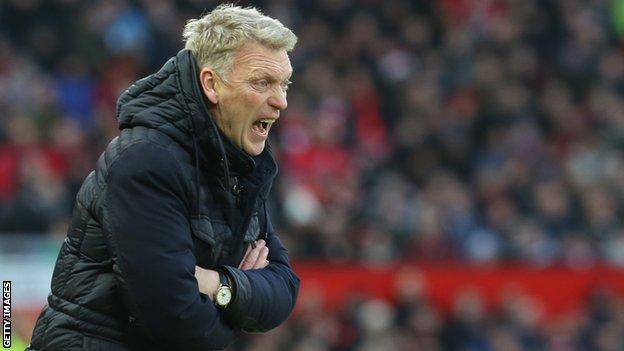 West Ham's decision to sack manager Slaven Bilic came as no surprise, with the formalities delivered on Monday after the heavy home defeat by Liverpool less than 48 hours earlier.
What has come as a surprise, and one that concerns many West Ham fans judging by the instant reaction, is that former Everton and Manchester United boss David Moyes is succeeding Bilic.
Moyes, 54, left Sunderland last summer after only one season, as they finished bottom of the Premier League with 24 points - and 26 defeats.
The move to bring him out of the wilderness, led by Hammers' co-owners David Gold and David Sullivan, is an attempt to steer the club clear of the Premier League relegation zone. Yet it poses many questions.
In a BBC Sport poll, 55% of voters thought David Moyes was 'absolutely not' the right choice for West Ham.
Why did West Ham want Moyes?
From West Ham's point of view, Moyes is a manager who would have been keen to grasp the opportunity, even in the short term, and is hardly likely to make heavy financial or footballing demands of the club's hierarchy.
The Hammers did not have to pay the sort of compensation needed to pursue other candidates, such as Burnley's Sean Dyche or Watford's Marco Silva.
Moyes' managerial record

Club

Games

Wins

Losses

Win %

Preston

234

113

63

48.3%

Everton

518

218

161

42.1%

Man Utd

51

27

15

52.9%

Real Sociedad

42

12

15

28.6%

Sunderland

43

8

28

18.6%
Moyes is also a seasoned Premier League manager, although his most recent experiences have been bruising. He was dismissed nine months into a six-year contract at Manchester United, while his dismal stint at Sunderland followed a short spell in La Liga with Real Sociedad, which ended in the sack.
"As a player, David Moyes coming in wouldn't inspire me," former Hammers striker Dean Ashton told BBC Radio 5 live. "That is what is going to be hard because he's going to have to overcome that straight away."
It is a leap in the dark for West Ham, with Gold and Sullivan banking on Moyes rediscovering the touch that won him plaudits, though not trophies, during 11 years with Everton. The manager secured nine top-eight finishes at Goodison Park, on a limited budget, and even guided the club into the Champions League qualifiers in 2005.
Moyes will not be expected to win trophies at London Stadium. He is an inexpensive solution to try to guarantee short-term survival.
If he succeeds, West Ham will have bought time to make a more considered appointment next summer. And if Moyes wins over the sceptics, he may even be handed the job himself on a long-term basis.
Why did Moyes want West Ham?
The chances of Moyes managing another Premier League club looked slim when he left Sunderland following their relegation. His stock was low after what many perceived as a defeatist attitude from the moment he arrived at the club.
Since then, his career has been in the doldrums. He has been linked with the Scotland manager's job after Gordon Strachan's departure and even a return to Everton, although that prospect was greeted just as icily by many of their fans as his proposed arrival at West Ham.
West Ham making progress?

Season

Finish

2012-13

10th

2013-14

13th

2014-15

12th

2015-16

7th

2016-17

11th
Moyes' personal standing was also damaged severely in March when he told BBC Sport reporter Vicki Sparks she "might get a slap even though you're a woman" after a post-match interview.
He apologised, later expressing his "deep regret" for the incident, for which he was fined £30,000 by the Football Association.
Now he has the opportunity to breathe fresh life into a struggling club with huge potential, and huge tradition, who play in front of crowds approaching 60,000.
This would be, in all likelihood, his last chance at a club of West Ham's stature. It is also a shot at redemption - and that may just ignite the spark which appears to have been snuffed out in recent years.
Why Moyes must change
Moyes walks into West Ham as an appointment heralded by few fans and criticised by many. He must make the fastest of fast starts.
"The fans seem quite unanimous in that they are not particularly keen to see Moyes come in," Graeme Howlett, editor of the West Ham United fans' website Knees Up Mother Brown, told BBC Sport. "They would prefer to see someone more progressive.
"Various reasons have been mentioned, including his record at Sunderland, where he came in at a similar position and failed to keep them in the Premier League.
"I suspect there would be an awful lot of criticism for the board, who are already under intense pressure following the move to London Stadium, which has not gone down well.
"It's certainly not an appointment that would be generally welcomed from what we've seen on social media and our forum."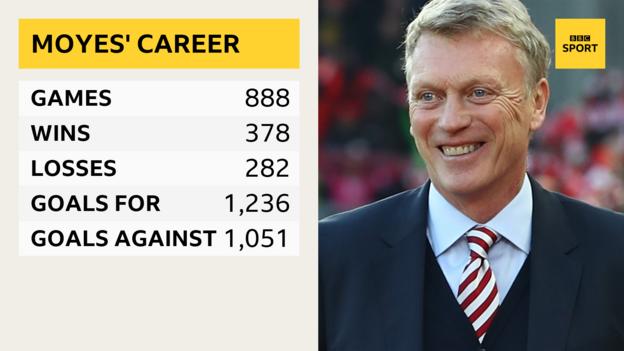 Moyes must make an instant connection with fans who cherish their club with fierce passion, who expect managers and players to understand those feelings and articulate them on and off the pitch.
He must not repeat the mistake he made at Sunderland, where he arrived looking like a beaten man and was criticised heavily for a series of negative comments, even though he insisted he was merely providing honest realism.
The manager began talking of a relegation battle just two games into the season; it became a self-fulfilling prophecy.
He had limited money to work with, but appeared to fall back on an unimaginative policy of signing his former Everton players, bringing in Steven Pienaar, Victor Anichebe, Joleon Lescott, Bryan Oviedo and Darron Gibson.
This time around, Moyes' body language, message and intent must be positive from the moment he walks through the door. He must rekindle the fire that earned him such a high reputation at Everton, and persuaded Sir Alex Ferguson to recommend him to Manchester United in 2013. There is no room for pessimism.
How big is the Moyes gamble?
The gamble is huge for West Ham's owners.
These are not happy times for the Hammers. The move to London Stadium has not been the golden ticket Gold and Sullivan had hoped for.
The cavernous arena is not a natural home for football and carries none of the hemmed-in hostility and atmosphere of wonderful old Upton Park.
West Ham's fans are unhappy with the club's hierarchy for making the move - although it was seen as a cost-effective way to push the Hammers on to the next financial and football level.
The period of adjustment was always going to be difficult, but the stadium cannot be used eternally as an excuse for poor performances.
West Ham's recent transfer market record has also been poor, with £24m Marko Arnautovic a flop so far and the owners getting into an unsavoury public spat with Sporting Lisbon over the failed bid for midfielder William Carvalho.
For all of these reasons, Gold and Sullivan need their choice of Moyes to work out.
Can Moyes get West Ham going again?
Thousands of West Ham fans streamed out before the end of Saturday's 4-1 home defeat by Liverpool. One wit suggested that those staying until the end were doing so to beat the traffic.
It was not a good evening for the Hammers, and it was one that summed up their troubles on the pitch over the past season-and-a-half. Their players looked fearful; Liverpool's were sharper, fitter and more intense.
West Ham's supporters have become used to displays like this; it is down to Moyes to lift their spirits.
"They need somebody to inspire the fans," added Ashton. "People say you need somebody that knows the club. I don't think you do, but you need somebody who inspires people and gets the fans back onside - and gets the players back onside - because it's losing its structure at the moment."
One man who has confidence in Moyes to do just that is Phil Neville, his captain at Everton and part of his backroom staff at Manchester United.
"West Ham look like they need a change and I think David is perfect," he told BBC Radio 5 live. "People, I think, are disrespectful because of a couple of bad experiences he's had but he's still a fantastic coach and I won't have anyone telling me anything else."
For Moyes, Gold and Sullivan, there is much riding on this decision.
If it works, a manager's career will be revived, and a club's owners will appear inspired. It if fails, those in charge at West Ham will face further criticism - while it will be impossible to see how Moyes could operate in the higher reaches again.