Slaven Bilic: Sacked West Ham boss needs a break, says Ian Wright
Last updated on .From the section Football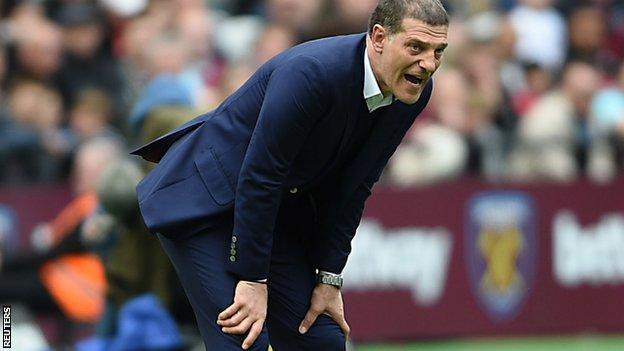 Slaven Bilic needed a break from management for the sake of his health, says ex-West Ham striker Ian Wright.
Bilic, 49, was sacked as Hammers boss on Monday with the club in the relegation zone after winning two of their first 11 games.
"As a friend, I'm actually pleased, knowing what he has been going through," Wright told BBC Radio 5 live.
"For his health he needs this break from it, because you can't work like that, always two games from the sack."
Former Manchester United and Everton manager David Moyes, who resigned as Sunderland boss in May following the club's relegation from the Premier League, was named as Bilic's successor on Tuesday.
Bilic was appointed in 2015, and led West Ham to seventh in his first campaign, but they dropped to 11th the following season - their first at London Stadium.
This season, they have beaten only Swansea and Huddersfield and conceded seven goals in their past two home defeats, against Brighton and Liverpool.
"I don't think they looked like they were working hard enough and the stats prove it." Wright added on the Monday Night Club.
"If it is David Moyes coming in, the first thing he has to do is improve the fitness because it looks like they were not interested and that has to come from the manager."
'Payet exit started slump'
Former Republic of Ireland international Andy Townsend believes the protracted departure of playmaker Dimitri Payet in January was a key factor in the club's slump.
"I put it all back to that," he said. "They had a special player there and for whatever reason, he left - and in such a bad way that they never seemed to recover. They have been scratching around for form since."
Townsend warned West Ham may suffer in the same way as Aston Villa, who secured three successive sixth-placed finishes under Martin O'Neill, but then fell down the table as spending was reduced, and were relegated in 2016.
"Martin O'Neill desperately wanted to take them into that next arena," Townsend said. "Villa were on the cusp of being the next one to muscle past the big four.
"I don't want to frighten West Ham fans with that Villa analogy but the owners at Villa decided they didn't want to spend that money and all of a sudden they started to slide."
Is Moyes the right choice for West Ham?
BBC Sport chief football writer Phil McNulty
From West Ham's point of view, Moyes is a manager who would be only too keen to grasp the opportunity, even in the short term, and is hardly likely to make heavy financial or footballing demands of the club's hierarchy.
The Hammers would not have to pay the sort of compensation needed to pursue other candidates, such as Burnley's Sean Dyche or Watford's Marco Silva.
Moyes is also a seasoned Premier League manager, although his most recent experiences have been bruising; he was sacked nine months into a six-year contract at Manchester United, while his dismal stint at Sunderland followed a short spell in La Liga with Real Sociedad, which ended in the sack.
It is a leap in the dark for West Ham, with David Gold and David Sullivan banking on Moyes rediscovering the touch that won him plaudits, though not trophies, during 11 years with Everton. The manager secured nine top-eight finishes at Goodison Park, on a limited budget, and even guided the club into the Champions League qualifiers in 2005.
What do the fans think?
Graeme Howlett, editor of the West Ham fans' website Knees Up Mother Brown
There's a general consensus that Slaven Bilic's time was up, even among those who have supported him throughout his tenure at the club.
The fans seem quite unanimous in that they are not particularly keen to see Moyes come in. They would prefer to see someone more progressive.
Are West Ham fans ever truly happy? I don't know. I saw Guus Hiddink mentioned on Twitter. Whether that's the sort of calibre of manager we could attract, I'm not convinced.
It would have to be someone from that top tier to give West Ham fans some sort of confidence we can survive and stay in the Premier League next season.