Danny Rose: Tottenham defender thanks psychologists for help with injury torment
Last updated on .From the section Football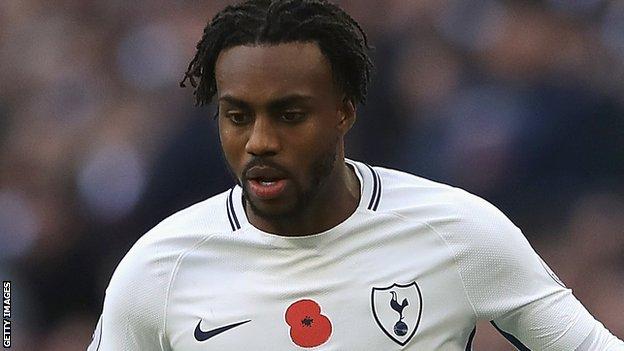 Tottenham full-back Danny Rose said psychologists helped him overcome "one of the most difficult periods of my life" as he battled a knee injury.
Rose, 27, said he had lost the appetite to regain his fitness as he spent almost nine months out of action.
But after recovering, he has gained a recall to the England squad.
"I thought I'd be out for a couple of weeks, but weeks turned to months and I really didn't see myself playing again any time soon," he told BBC Sport.
"It's good to talk to people and share your problems. I wish I'd done that at the start of my injury."
Rose said that his injury problems "humbled" him, after previously feeling "untouchable".
He added: "I feel as if I'm stronger. It's my first serious injury in 10 years as a professional.
"Touch wood it never happens again. But if it did, I'd know what to expect. It'll help me to know I'm not alone.
"There are people out there willing to help, not just in football. They can give you thoughts to help you improve, not just physically but mentally as well."
Having injured his knee at Sunderland on 31 January, Rose returned as a substitute in the Champions League draw at Real Madrid on 17 October and then started the Carabao Cup tie with West Ham eight days later.
That was enough to convince Gareth Southgate to include him in the squad for the friendlies with Germany and Brazil at Wembley on 10 and 14 November.
For Rose, training with his international team-mates has meant a return to the National Football Centre at St George's Park, in Staffordshire, where he did part of his rehabilitation.
He said: "I came here to give me a break from my club because it was a bit stressful for me there seeing the same faces every day, the same four walls, the same gym.
"But I came here and worked and then went back. Once I was back training, I fell in love with football again."
With Rose out injured, Tottenham finished second in the Premier League in May. They have since enjoyed an unbeaten start to their Champions League campaign, beating Borussia Dortmund and Real Madrid to top Group H.
Asked to describe how he has felt watching from the sidelines, Rose said: "Impressed, jealous, angry. I've been through a whole load of emotions.
"Last season I felt untouchable, like I was one of the best, then the injury humbled me, brought me back down to earth and it was very hard to deal with.
"It was only two months ago that I was doing some rehab and I lost my appetite for wanting to get back fit because I didn't think it was every going to happen.
"Seeing Tottenham win against Dortmund and having the Madrid trip to look forward to brought my hunger back for football."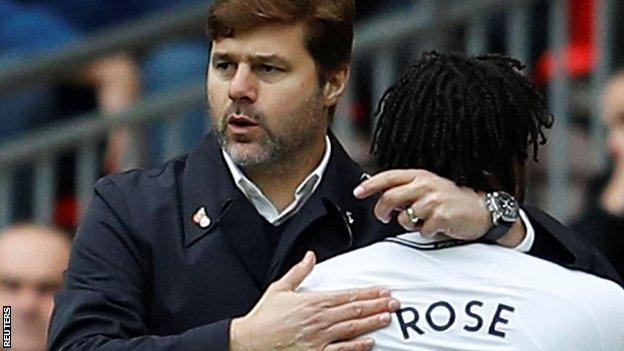 'Me and the gaffer are fine'
During his long injury absence, Rose caused controversy with comments in a newspaper suggesting he and his team-mates were underpaid.
He also criticised Spurs for a lack of signings and said the club needed to bring in well-known players and "not ones you had to Google".
Rose subsequently gave an apology, which was accepted by Spurs boss Mauricio Pochettino.
"Me and the gaffer are fine; we speak most days," Rose said.
"Over the last three years, the lads will tell you that I am the one in his office the most, speaking to him and going through videos and sharing text messages, even going round to his house.
"I thought him putting me on against Real Madrid, even though it was only for 10 minutes, was a class act on his part, making me feel part of it again, even though he didn't need to bring me on.
"As far as I'm concerned, me and the gaffer are great, As long as we've both got the same goals, which is to win a trophy for Tottenham, then there's nothing to worry about."