Blackpool: Joey Barton asks lawyers to recoup settlement fee to Oyston family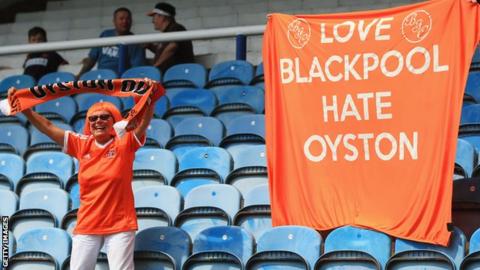 Joey Barton says his lawyers will try to recoup a settlement fee he paid to Blackpool's owners in 2015.
Having described the Oyston family as "asset strippers", ex-Burnley midfielder Barton was threatened with legal action and settled out of court.
On Monday, a High Court judge ruled the Oystons had "abused their majority powers to the detriment" of Blackpool.
When asked by a Twitter user if he would reclaim his money, Barton wrote: "Have lawyers on it as we speak."
He added: "I was threatened with litigation and had to give these people £20k for saying exactly this."
In his ruling, Mr Justice Marcus Smith ordered the Oyston family to buy out minority shareholder Valeri Belokon for £31m.
Belokon, who brought the action against the Oystons, had accused the family of unfair prejudice against shareholders.
After ruling in his favour, the judge said a "financial buyout" was the appropriate course and that an initial £10m should be paid within 28 days.
In a statement, Belokon said he "always questioned the large payments" from Blackpool to companies owned by Owen and Karl Oyston following promotion to the Premier League in 2010.
He said: "In finding that those payments were disguised dividends to the Oyston family, today's judgment vindicates what we have all been saying.
"The judgment reveals clearly for the first time the full extent of those payments and provides transparency as to how the club has been run."