Price of Football 2017: Young adult fans are 'put off' by cost of football
Last updated on .From the section Football629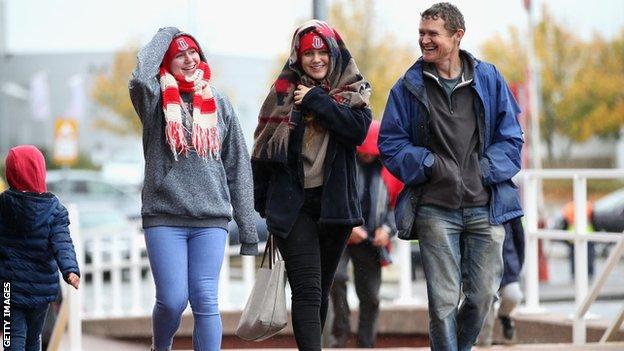 The BBC Price of Football study has found the majority of ticket prices have been frozen or have fallen for a third year - yet a poll of young adult football fans suggests the cost is still putting them off.
This year BBC Sport asked more than 200 clubs across the United Kingdom for information on ticket prices and found almost two thirds of price categories have been reduced or remained the same across England, Scotland, Wales and Northern Ireland.
In a separate poll, we asked 1,000 18- to 24-year-old fans living in Britain how they engage with football, and four in five (82%) said the cost of tickets was an obstacle to them going to more matches.
The annual study found 135 clubs out of 190 in England, Scotland and Wales offer reduced prices for teenagers and young adults - separate from any student concessions - but 55% of the fans we polled said they had stopped going completely or go to fewer games because it was too expensive.
Young adult fans can save, on average, £146.94 on season tickets in the English Premier League and Football League, while in the top four divisions in Scotland the average saving on a season ticket is £143.66.
According to figures from the Premier League, young adult fans bought 4% of all season tickets this year. A report in 2015 suggested the average age of an adult supporter in the Premier League was 41.
Rob Wilson, football finance expert at Sheffield Hallam University, says top clubs need to do more to attract young adults.
"These fans are the next generation of season ticket holders but they have been brought up in a sanitised and expensive environment," he told BBC Sport.
"With this in mind, they are reluctant to pay so much to watch their teams play and these findings should act as a warning to the Premier League elite - they ignore this group of fans at their peril."
Arsenal manager Arsene Wenger admitted he was worried by the findings.
"I think nothing is better than to share the experience of a stadium," he said. "There are many ingredients in the modern game that stopped people going. The lifestyle is different, they play less, they play more computers.
"The security of gathering people is a problem. Can you afford to go when you are young? There are many ingredients we have to take care of in the game."
In a statement, the Premier League said: "Clubs engage with their fans in many ways and hugely appreciate their loyal and passionate support.
"For young fans specifically, all clubs offer concession prices, including discounted junior season tickets."
The online poll, conducted by ComRes, also showed young fans are more likely to engage with football by playing games on a console or PC (61%) than in a football team (37%).
More young football fans bet on the sport (44%) than play in a team (37%), but more fans play in a team than have a fantasy football team (33%).
Only one in four fans (26%) said they go to watch football live more than once a month.
Other findings:
Two thirds (65%) of young football fans said the cost of travel was an obstacle to attending more matches.

Three quarters (74%) of young fans said they get their football news from social media - 24% from print newspapers.

Three in five fans aged 18-24 go to a sport app or mobile site (59%) for football news while at least half access it via a TV results service (53%).

70% of supporters agreed football clubs did value their fans, but more than half of the teenagers and young adults (56%) said professional football was not run with them in mind.

Similar numbers of football fans asked said they go to a football match at least once a week (11%), two to three times a month (15%) or five to 10 times a season (14%).

One in six (16%) male football fans aged 18-24 said they go to a match at least once a week, compared to 7% of women in this group.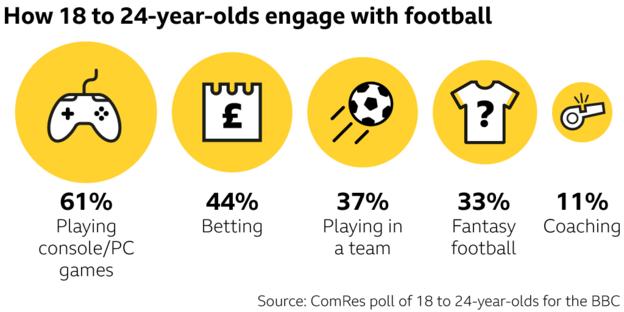 The picture across Britain
Of the top four leagues in England, 92% of clubs offer special prices for young adults, separate from any student concessions. The age ranges vary from 16-24 years old, with most targeting the 18-21 bracket.
The biggest discounts come in the Premier League, where an Arsenal member aged 16-19 can purchase a season ticket for £384 compared to the cheapest adult season ticket at £891 - a saving of £507.
Chelsea offer the biggest discount on single matchday tickets for their under 20s, who can pay £15.50 instead of £47 - a saving of £31.50.
But despite these discounts, 81% of the young adult football fans living in England who were polled say they feel the cost of tickets is stopping them from going to more matches.
In Scotland, 27 of the 42 clubs offer young adult discounts.
In the poll, 79% of fans say cost is an obstacle to them attending football matches.
A third of the clubs in the Welsh Premier League offer special discounts for young adults.
Of the young adults asked in Wales, 90% say the cost of tickets puts them off going to watch football.
Analysis and reaction
Rob Wilson, football finance expert, Sheffield Hallam University:
E-sports are becoming big business and this is the next key challenge for clubs. How do you convert e-sport players into terrace-goers? Can you link the e-game to the actual one? How can mobile technologies support this at half-time, for example? Moreover, the way young fans consume information is changing - clubs need to engage fans much more effectively when it comes to social media.
We've seen big reductions in subscriptions to the pay TV platforms so it's unsurprising young people think twice about live football. There are also lots of options for young people to spend their leisure pound (the cinema, gym, university, cars etc) so football clubs need to work much harder to engage them. There is no magic bullet but they need to do more and communicate that more effectively. The long-term impact of young fans feeling priced out is yet to be truly felt.
Kevin Rowles, economics expert:
What we are seeing, especially with young people, is that incomes are being squeezed in real terms and this will lead to a decrease in demand, particularly as there are alternative leisure opportunities. The number of fans attending football will also respond to rise and fall in prices because of the price elasticity of demand for tickets.
Support for a team is often a matter of loyalty and hence lower prices may not attract many new fans. If young people find their finances are stretched, they may make a rational choice to follow a team by other means such as screened matches.
Young people tend to be in work but with the very slow growth in wages in the past 10 years, their income is lagging behind living costs. Real wages are not rising and young people are also saddled with student debt. Rent and utility bills have to be paid and they are rising faster than other prices.
Then, when you have to pay for food on top, it means things like sport and paying to watch football are not a priority.
Dr Rachel Andrew, clinical psychologist:
There are a number of different, interacting factors that play a part in young people's decision making. These factors are relevant to decisions made about leisure (and in particular football). These include factors such as: 1) temperament and personality and 2) past history - including childhood memories, parents' interests & values, and past teachers or peer influence.
However, there are some interesting trends around leisure also. Young people are drinking less. Young people are more thoughtful about what they want to do with their time and money. Superficially it looks like they have increased choice about what they may do, but in reality they also have less money and less time.
As a young person gets older, it often becomes more important to make decisions that will not alienate them from a social group of friends when compared to decisions that their parents may not like or may be unhealthy.
I am not surprised young people are engaging with football online through videos/fantasy football and probably through social media & apps too - as this is a trend we are seeing across the board with leisure.
I feel sad and disappointed that young people are playing less football as there are so many physical and mental health benefits to this. It is sad that the big drive to increase football in schools is not having a long-term effect once children leave school.
Do you go to games?
Do you attend football matches regularly? If so, what keeps you coming back? Or if you don't, what stops you from going? Get in touch using this link.