Sean St Ledger: Solihull Moors defender 'too tired to talk' during comeback game
Last updated on .From the section Football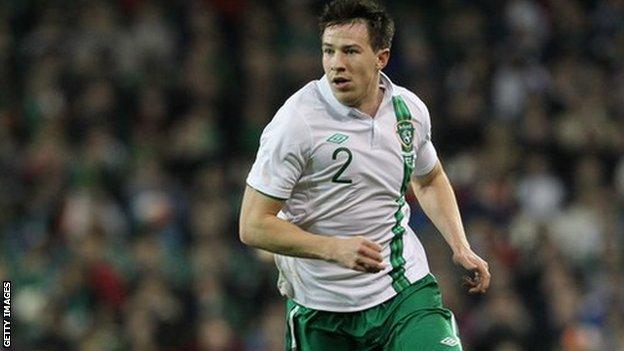 Solihull Moors signing Sean St Ledger admits he was "too tired to talk" at times in his first game for two years.
The much-travelled ex-Leicester City and Republic of Ireland centre-half was advised to retire from football during a stint in Major League Soccer in the USA marred by a knee problem.
But, at the age of 32, he has returned to his home-town club.
"It's taken me a year, rehab-wise. But it's great to be back playing - and in the FA Cup too," he told BBC WM.
A Beast of a welcome back . . .
St Ledger could not have faced a tougher opponent for his debut at Damson Park - finding himself up against the man they call 'The Beast', Wycombe Wanderers striker Adebayo Akinfenwa.
"I'd played against him before (for Peterborough United), when he was at Swansea. He's a big part of what they do," he said after the Chairboys progressed with a 2-0 win.
"It's two years since I'd played a proper game. And maybe the first 45 minutes took it out of me. I was too tired to talk at times. But I found my wings a bit (in the) second half."
Now St Ledger is preparing to face Sutton United in the National League on Saturday in what should be his first taste of English football's fifth tier for almost 14 years.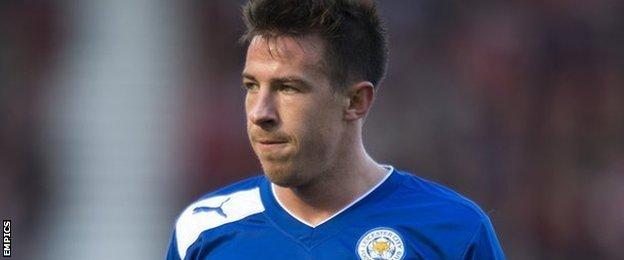 Loaned out by Peterborough United to then Conference side Stevenage in early 2004, he sat on the bench at Hereford, but did not feature.
He subsequently went on to earn a six-figure move to Preston North End, where he played 200 times and won a Republic of Ireland call-up before being signed by Sven Goran Eriksson for Leicester in July 2011.
But it was when he was at Leicester that he suffered the first of his knee problems, and was treated by Bayern Munich club doctor Hans-Wilhelm Muller-Wohlfahrt at the same clinic which has previously had the likes of Michael Owen, Steven Gerrard, Arjen Robben, Miroslav Klose and even Usain Bolt through its doors.
'Lost' without football
St Ledger tried his luck across the Atlantic with Orlando City and Colorado Rapids, where his knee condition worsened to the point that he was advised to pack the game in.
But he was determined to make a comeback and tuned down other offers to join National League bottom side Solihull.
"When I left Leicester, I was out of contract for quite a while. I joined Ipswich for a month but felt lost. And I felt the same when the surgeon told me to retire. But I always thought I could get back and it's nice to be back," he said.
"I've missed English football. Soccer is the fifth sport out there. It's never on TV and even the results you don't hear.
"I had a few offers to go and train with people in the league but I need to play. This is my home-town club. A place I know. I used to go to school next door.
"I've been in relegation battles before. It's never nice. And some may be low because we haven't won many this year but there's some good players here and from what I've seen I'm surprised to see where we are in the league."
Who's next as Moors manager?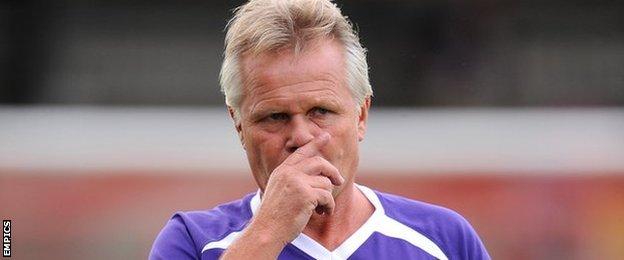 Within hours of St Ledger's arrival from Solihull, manager Richard Money opted to step down after just 26 days in charge, and it was caretaker boss Gary Whild who picked the team for Sunday's FA Cup first round tie.
"It was Sean's first game for a long while," Whild told BBC WM. "He admits that in certain areas he's rusty. But you can already see glimpses of what he can do. He'll be important to the club moving forward."
As for the Moors' next move on the managerial front, former Redditch United and Kidderminster Harriers boss Whild admits: "I honestly don't know.
"I came back here a month ago to do a certain job. That's changed several times within the month. Things have changed radically, but let's see how things develop over the next few days.
"The club is working hard for a big future. I want us to be at the highest level we can. And we now have to take our second-half display against Wycombe into our league games."
Sean St Ledger and Gary Whild were talking to BBC WM's Steve Hermon