Andrea Pirlo: The football genius who defied the number crunchers
Last updated on .From the section European Football184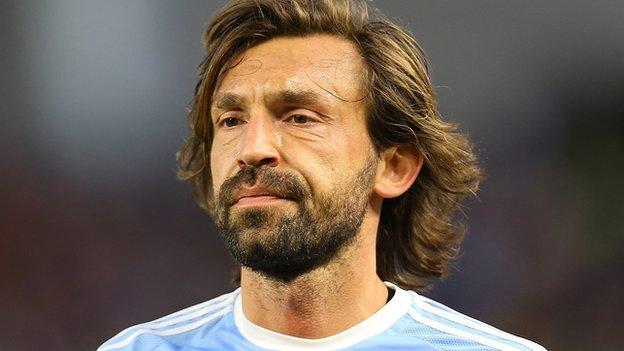 Physicality, pace, defensive diligence and a starched lifestyle of medicine balls and clean eating.
Andrea Pirlo had none of them.
By any objective assessment, he was profoundly unsuited to the helter-skelter world of a modern midfield - too slight to rule through muscle, too slow to escape the mob.
His rating in the latest edition of Fifa was a blunt barometer of his abilities.
Pace: 33. Defence: 46. Physical: 50. Shooting: 66.
To judge by his final two seasons at New York City FC, it was entirely accurate.
On Sunday evening, as the 38-year-old ambled off the bench as a 90th-minute replacement against Columbus Crew to play the 872nd and final game of his career, a sizeable section of the MLS side's support were ready to say goodbye.
Instead of the armchair he had been afforded when playing for AC Milan and Juventus, he was being asked to hustle around Yankee Stadium like a side-alley hawker.
It was a role he had never played, and never could.
His head was back in Europe, the fans said.
And that, with Pirlo, was key.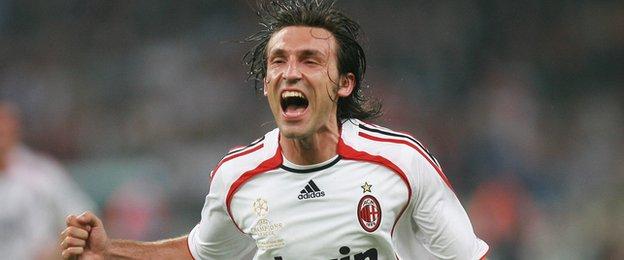 The mind of the maestro
He was a player who defied the spreadsheets of 21st-century sports science.
Pirlo's magic was not in fast-twitch fibres or VO2 volumes.
It was in the top six inches. 'Cerebral' did not do it justice; his brain was a footballing supercomputer - as if Deep Blue had tired of chess and pulled on studs instead.
For every yard Pirlo lacked in pace, he made up two in anticipation.
Like a snooker player living three shots ahead, he had the uncanny ability to foresee how the kaleidoscope of 20 moving parts came together on the pitch.
Wherever pockets of space bubbled up, he would be in the centre of them, head up, breathing fresh air and taking in the view.
Then, ball at his feet, at the base of midfield, came the second half of his genius.
Slide-rule geometrics, feather-duster through balls, glorious cross-field parabolas or pinged top-corner heat-seekers - while others simply struck the ball, Pirlo's boot coaxed it into the perfect shape and weight with the dexterity of a potter's fingertips.
"He is one of the all-time greats without doubt," said Italian football expert James Horncastle on BBC's Euro Leagues podcast.
"He is one of the best free-kick takers we have ever seen play the game and a player who is synonymous with a position and a playing style. Very few players can say that."
Slacker chic and old-Europe charm
His work was a subtle, but intoxicating mix, worthy of a boyhood spent amid the vines of the family estate in Brescia.
But, as any winemaker will tell you, packaging is key to a product's popularity.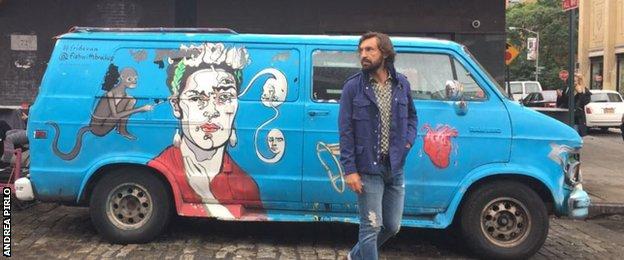 Off the pitch, Pirlo blended slacker chic and an old-Europe charm that marked him out from the cookie-cutter soundbite pros alongside him.
Pre-match warm-ups? "Nothing but masturbation for conditioning coaches," he wrote in his autobiography.
The Playstation? "After the wheel, the best invention of all time."
Liverpool goalkeeper Jerzy Dudek after the 2005 Champions League final? "That jackass of a dancer, who took the mickey out of us."
He loved the game - once reasoning it is better than sex as "it lasts longer and if it falls flat, it can't just be your fault" - but only the game.
Hype, glitz and personal brand, like the stretching routine, could go hang.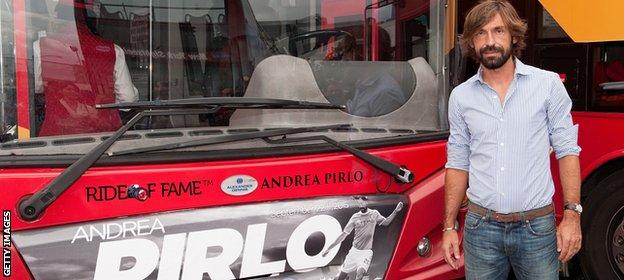 In the perma-emoting world of social media and public relations, Pirlo did not want or ask for your approval.
Whether wheeled out at the naming of a tour bus or facing the prospect of a cream pie in the face, he wore the same stony look of detached bemusement in his promotional appearances for New York City FC.
It was all topped off with a beard - as immaculate and neat as its owner's passing - that emerged some time in 2013.
Perfectly tracking the recent barista-fuelled revival of chin fuzz, it also harked back to razor-shy mavericks such as George Best and Socrates and their similarly simple joy on the pitch.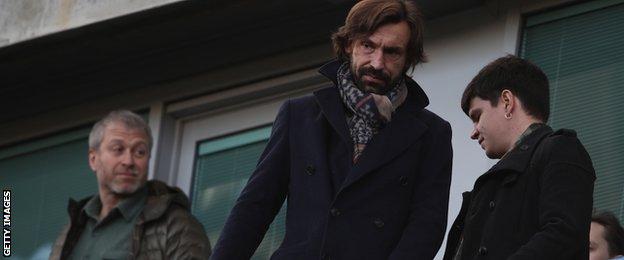 By the tail end of his career, Pirlo had become the figurehead for a new kind of football fandom - the hipster's choice to instantly establish their connoisseur credentials.
But his gifts were too pure and obvious to remain a niche interest.
Anyone who had ever passed through a turnstile could instantly recognise them, if only dream of replicating them.
That ability to bend time, space and a ball to his whim will remain in the memory long after the memes, bandwagon love-ins and an indifferent stint in the Big Apple.