Kevin Mirallas: Everton winger apologises for 'frustration'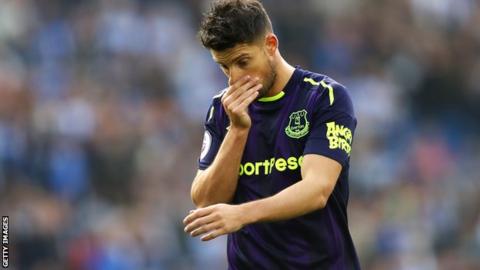 Everton winger Kevin Mirallas has apologised for "not being able to cope" with his "frustration" - but denied he was dropped for showing a "lack of commitment" in training.
Reports have suggested Mirallas and team-mate Morgan Schneiderlin were sent home from training after their attitude was questioned by coaching staff.
However, both players have said that is not why they were left out of the squad who beat Watford 3-2 on Sunday - with Mirallas calling it a "manager decision".
Everton have not appointed a permanent manager after sacking Ronald Koeman last month.
David Unsworth is in temporary charge of a side who have won only three Premier League games this season but who are up to 15th after Sunday's win.
"I was not excluded from the squad due to a lack of commitment during training," Belgium international Mirallas wrote on social media on Tuesday.
"This was a manager decision and I was frustrated as I am fully committed to Everton since arriving in 2012 and I can't accept our actual ranking."
"I apologise to my team-mates and the manager for not being able to cope at that moment with my frustration."
On Monday, France midfielder Schneiderlin, 27, said: "The stories are not true.
"I am fully committed to Everton and will continue to work hard for the club and the fans in training and on the pitch."
Former England manager Sam Allardyce said on Monday he would be open to talks with the club's owner Farhad Mohsiri about taking charge.