SFA and SPFL: Survey says stakeholders dissatisfied with Scots' governing bodies
Last updated on .From the section Football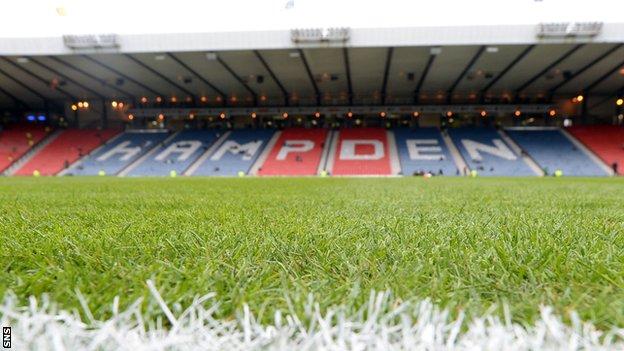 A survey of more than 16,000 Scottish football stakeholders has heavily criticised those running the game.
Many were "very dissatisfied" with the leadership of the Scottish FA and the Scottish Professional Football League.
Both organisations also rated poorly for levels of "openness, honesty and trust" and "good governance and transparency".
Players, managers and referees took part in the survey by the Scottish Football Supporters Association.
But fans made up almost 99% of respondents.
The SFA insist their "Performance Strategy is bearing fruit" while the SPFL pointed to increased revenue and attendances.
Other findings include 93% of respondents believing the Scottish game should be overseen by an independent watchdog, with 90% wanting the Scottish government to put pressure on football authorities to improve and more than 90% of respondents seeking more supporter influence in the SPFL and SFA.
Former first minister Henry McLeish, who led a review of Scottish football in 2010, is a board member of the SFSA and said: "This challenging independent research into how Scottish football governance is seen has uncovered some very concerning issues, but also provides a real opportunity for change.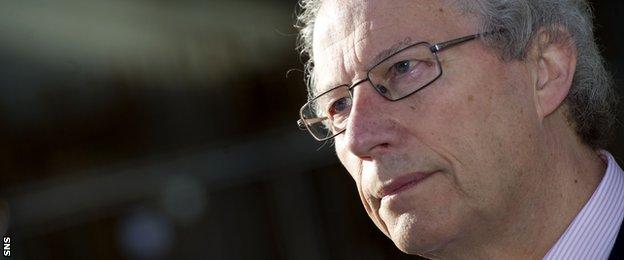 "The fact that over 60% of fans say that they could end up leaving the game in the future rings a major alarm bell, as does the knowledge that almost a quarter say they never attend away games.
"What we appear to have is a big disconnect between the football authorities at Hampden Park and those who are essential to the flourishing of the game at a hands-on - supporters certainly, but also players, coaches, managers and volunteers."
In response to the survey, an SPFL spokesman told BBC Scotland: "We are all working towards a common goal to grow and improve the game in Scotland and are encouraged by progress in recent years.
"It's worth underlining that the SPFL's commercial income and revenues back to clubs are at record levels and attendances last season were at the highest level this decade, up 12% over the previous season."
The SFA also highlighted revenues due to be redistributed to member clubs as well as qualifying success of the men's under-17s, women's under-19s and women's A team, the latter having reached their first major finals at Euro 2017.
The governing body also pointed to its annual survey conducted in conjunction with Supporters Direct Scotland and the SPFL, as well as "the development of the Supporter Liaison Officer programme".
"In our role as guardians of the game, tough choices often need to be made and we accept we have come through a challenging period for Scottish football," said the SFA spokesperson.
"We have implemented 95% of the recommendations laid down by Henry McLeish himself since 2011, many of which focused on the governance of the game.
"Today we have been at the Scottish Parliament to give evidence on the Offensive Behaviour and Threatening Communications Act, with that evidence based on feedback from supporters via the Scottish Football Survey."