Robbie Rogers: LA Galaxy defender announces retirement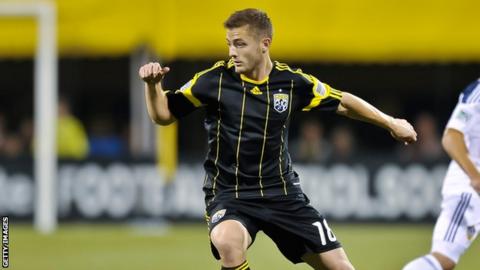 LA Galaxy defender Robbie Rogers has announced his retirement from football after suffering an ankle injury in May.
The former Leeds and United States left-back has not played since being left with nerve damage in his ankle and requiring surgery last season.
Rogers, 30, first quit the game back in 2013 before announcing he was gay, but returned to play in the United States.
"It is with mixed emotions that I announce my retirement from the game of soccer," Rogers said on Tuesday.
"It is through this game that I have experienced some of my greatest achievements both professionally and personally.
"I leave the game full of pride of what I have accomplished as a person and a player. I am looking forward to the next chapter of my life."
After coming out in 2013, Rogers became the first openly gay male athlete to play in a major North American sports league.
He scored 15 goals in 184 career MLS games with the Columbus Crew and LA Galaxy.
He also had a spell with Leeds in the 2011-12 season but struggled with injuries and, after going on loan to Stevenage, was released in 2013.
Rogers won two MLS Cups in 2008 and 2014 and two MLS Supporters Shield trophies in 2008 and 2009, and also earned 18 caps with the US men's national team.
"My only regret in my 11-year career are the years I spent in the closet," he wrote on Instagram following his retirement.
"I wish I could have found the courage that so many young individuals have shared with me in the past five years to live honestly and openly as a gay person."