Dementia & football: PFA tells Alan Shearer it is unsure on numbers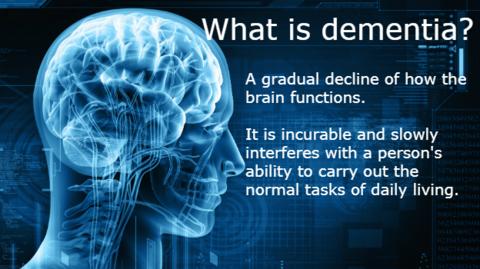 Professional Footballers' Association chief executive Gordon Taylor says he does not know how many of its 50,000 members have dementia.
Taylor was talking in a BBC documentary in which former England captain Alan Shearer investigates the link between the disease and heading footballs.
The PFA and the Football Association have pledged to fund research and support former players with dementia.
"At least now people have started to look for answers," Shearer said.
"Nowhere near enough research has been done so far. For too long it has been swept under the carpet, which is why so many people are angry - and rightly so.
"But even before we have findings, football must look after old players with dementia and put an end to this sense that once you are done with playing you are put on the scrapheap. People still have a life to lead.
"There are 850,000 people in the United Kingdom suffering from dementia and there are a lot of footballers in those numbers.
"But the reality is, and the sad thing is, we don't know how many and that can't be right."
First link to dementia was made 15 years ago
The link between heading the ball and dementia was first made in 2002 during the inquest into the death of former West Brom and England striker Jeff Astle.
Astle died from dementia aged 59 and the coroner who found signs of brain injury - called chronic traumatic encephalopathy (CTE) - said the damage had been caused by years of heading a football.
Shearer said Astle had been diagnosed with an industrial disease, but little has been done since despite several high-profile ex-players also being diagnosed with dementia.
They include 1966 England World Cup winners Nobby Stiles, Martin Peters and Ray Wilson, Liverpool legends Ron Yeats and Tommy Smith and Celtic's European Cup-winning captain Billy McNeill.
Could heading be banned?
When the link was made in the United States between brain trauma from repeated blows to the head and CTE in retired NFL players, the NFL quickly set up a compensation fund worth $750m (£569m).
PFA chief executive Taylor acknowledged that football needs to do the same sort of investigation into the damage caused by heading, and says plans are already in place.
Taylor says the PFA is looking to build a database of members with dementia, and told Shearer: "It has been put to me that maybe clubs are very wary because there may be compensation.
"But you can only be negligent if you know for certain that there is this link.
"What I am saying is that football has a duty to see if there is a causal link, because if there is, and if that could significantly increase the problems in later life, then we need to look at the rules of the game and address it."
What will the study involve?
The FA and PFA commissioned joint research into the issue in March.
They will study a group of former professional footballers and the FA's medical performance director Dr Charlotte Cowie says it will provide reliable answers "as quickly as possible".
When asked by Shearer whether the FA had run away from the issue in the past, Cowie replied: "One thing I can say with confidence is that I feel we are running towards this problem at the moment.
"The FA made a conscious decision not to wait for [world governing body] Fifa or [European football's governing body] Uefa and I think that was the right decision. It was probably a difficult decision to make.
"We have used a panel of experts in concussion and in research to try to help us formulate a study that gives us an answer as quickly as possible - if we can do - but, more importantly, gives us some results that are really reliable."
Cowie says the most important thing that the study needs to establish is whether dementia is more common in footballers than in the normal population.
"That is the question everyone wants to know," she added. "Is it a problem?
"If there is a link to football and dementia in some players, then is that concussion - and if that is the risk, rather than heading, then we need to know that as well."
Taylor says players living with dementia will get support too.
"The issue of problems with heading the ball and whether it will have long-term effects is something we are looking to establish, either definitively or not at all," he explained.
"I think it's the PFA's job to do all we can to provide support.
"The first research we did was inconclusive but we have said money is going to be put towards research and also towards respite care for the more and more former players who need help."
'Researchers need funding - and brains'
Families of former British footballers have indicated they are willing to create a 'bank' of donated brains to deliver new medical evidence into the link between football and dementia.
"What we need is more research. There are people in this country willing to do the work - I have met them while I made this documentary," said Shearer, who scored 46 of his 260 Premier League goals with his head.
"They need funding but more important they need the raw materials to conduct this research - brains.
"They need brains - not just footballing brains or diseased brains but healthy brains from all walks of life."
For more information, visit www.bbc.co.uk/dementiaandfootball