Blackpool: Oyston family puts the League One club up for sale after 31-year ownership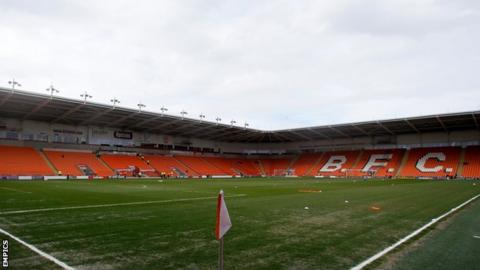 League One side Blackpool have been put up for sale by the club's owners, the Oyston family.
The decision comes after they lost a High Court battle with former club president Valeri Belokon and were ordered to buy him out for £31m.
The Oystons, who have owned the club since 1986, were alleged to have shown unfair prejudice against shareholders which they denied.
They have said they will appeal against certain aspects of the court ruling.
Both the club itself and the properties division that owns their Bloomfield Road stadium are up for sale.
"Expressions of interest should be made to an independent nominee, appointed by the Football Club," a statement said.
In the meantime, lawyers have been instructed to seek leave to appeal against "elements" of the court judgement.
"In the interim period, as throughout the litigation process, the focus of the Football Club's board remains on supporting the manager and continuing to negate the impact of off-field issues," the statement added.
Under the ownership of the Oystons, Blackpool won promotion to the Premier League in 2010, but then dropped back to League Two in just five years.
But following relegation after just one season in the top flight, their supporters have been involved in demonstrations, match boycotts and social media campaigns over the way the family have run the club.
In 2016, a Blackpool Supporters' Trust launched a £16m takeover bid, but Owen Oyston ended talks, saying in a letter that he doubted they had the "money or the experience necessary to support the club".
'A long way to go'
Trust chairman Christine Seddon told BBC Radio Lancashire that the club being up for sale was "joyous news".
"It's something we have waited for for so long. While the judgement on Monday made things very helpful and showed that things would start to move, we know there's a long way to go yet," she said.
"We always said that their position is untenable. Having virtually no fans attending the club and no revenue coming in could not go on forever.
"Once the Oystons have gone, I think Bloomfield Road will be rocking. We are desperate to get back in there and it will just be the most wonderful day."
With the club now destined for new owners for the first time in over 30 years, Seddon suggested that whoever comes in must have Blackpool's best interests at heart.
She continued: "It's about having somebody that has got the knowledge and interest, who is genuinely committed to running the football club as part of the community, who will take into consideration the supporters and moving it forward with all of us together, not looking at it as a cash cow or something that is purely going to benefit them.
"Football first is the mantra and that's exactly what we need."
How did it reach this point?
April 1986: Blackpool sold to Owen Oyston for £1 with the club in the old Third Division
May 2006 - Valeri Belokon buys 20% stake in Blackpool FC and becomes the club's president
May 2010 - Blackpool win promotion to the Premier League after beating Cardiff City in the Championship play-off final at Wembley, but are relegated 12 months later
Summer 2014 - Two weeks before the 2014-15 Championship season starts, Blackpool have only eight outfield players and no goalkeeper
August 2014 - Manager Jose Riga puts together a squad in time for Blackpool's opening game against Nottingham Forest, but can only name four substitutes instead of the permitted seven
December 2014 - Chairman Karl Oyston becomes embroiled in text message scandal after allegedly sending abusive and insulting words to a fan
February 2015 - Fan appears in court after being sued by the club for up to £150,000 over alleged defamatory comments online
March 2015 - Karl Oyston charged with misconduct by the Football Association in relation to exchanges of text messages with a fan and the club are relegated to League One the following month
May 2015 - Fans invade pitch during last game of the season against Huddersfield Town and some also attempt to break into the directors' box. The game is abandoned.
June 2015 - The FA confirms Karl Oyston will be banned from all football activity for six weeks and fined £40,000 for sending abusive texts to a fan
August 2015 - Blackpool given suspended three-point deduction and £50,000 fine for Huddersfield Town pitch invasion
November 2015 - Fan ordered to pay £40,000 to Oystons after losing libel case - one of a number of such cases against fans pursued by the family
January 2016 - Fan given 26-week prison sentence and six-year football banning order following a trial for storming the directors' box in Huddersfield Town game previous year
May 2016 - Blackpool relegated to League Two
February 2017 - Oystons lose multi-million pound battle with Valeri Belokon concerning profits over their redeveloped South Stand
May 2017 - Club win promotion back to League One at first time of asking after beating Exeter City in League Two play-off final at Wembley
November 2017 - Oystons lose High Court battle against club president Valeri Belokon and ordered to buy him out for £31m