Glasgow City beat Hibs to wrap up 11th successive SWPL title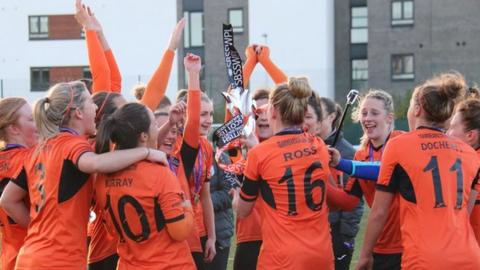 Glasgow City clinched their 11th successive league title with a game to spare after a comprehensive 3-0 win over nearest challengers Hibernian.
All the goals came in the first 25 minutes, with Lauren McMurchie volleying in the opener for the visitors at Ainslie Park.
Two defensive lapses inside 60 seconds then allowed Abbi Grant and Hayley Lauder to profit.
Hibs goalkeeper Jenna Fife made a string of saves to keep the score down.
Elsewhere, Aberdeen were relegated after a 4-2 defeat to Stirling University. Celtic beat Rangers 5-1 to secure third place, and Hamilton lost 3-0 to Spartans.
Champions at a canter
In what had been a seismic battle for the title, the way it was sealed was something of an anti-climax.
Hibs did not have their troubles to seek in the build-up. The departure of head coach Chris Roberts to Bristol City four weeks ago had rocked them. They went into this game without four regulars, with another two missing training through the week with illness.
If Glasgow City had any sympathy for their rivals, they did not show it, taking an early grip of the game and never letting go.
McMurchie put them ahead on 16 minutes with a sweet right-foot volley. Either side of that Noelle Murray and Lauder fired over.
Two huge errors for Hibs would seal the hosts' fate. Siobhan Hunter's poor clearance gifted Lauder the ball, who saw her shot brilliantly saved by Fife, but the rebound fell to Grant who had an easy finish at the far post.
A minute later and Ellis Notley was pick-pocketed in possession by Lauder, who strolled forward unmarked and picked her spot in the bottom corner.
The absence of Hibs captain Joelle Murray was notable as defensively they fell apart and frustration got the better of them. Rachel McLaughlin was booked for throwing the ball away as a decision went against her, while Abi Harrison - usually so deadly inside the box - fired straight at goalkeeper Lee Alexander six minutes before the break.
The game, and the chance of a first title since 2007, was gone for Hibs and they knew it, and although they had moments in the second half with Kirsty Smith and Harrison having decent efforts, City always looked the more likely to add more.
Katie McCabe twice broke free on the left for City, firing over then having a shot well saved by Fife.
Grant was denied a second by another good stop from Fife, who produced a fantastic effort to deny Joanne Paton from inside the six-yard box.
The home keeper managed to stem the tide, but it was little consolation as the home side had to watch as City lift the title once again.
Glasgow City head coach Scott Booth: "It was a special game in the way they were able to get three goals in a short space of time to kill it off, and not let up. Once they got the bit between their teeth they were right at them.
"We've made some changes, but we've still got a core of experienced players that are internationalists that cement us together and keep our standards really high. But I think some of the new ones that have come in have done particularly well too.
"To win 11 league titles is unbelievable, it'll never be done again. I said to them before the game you'll not get a better chance to win 11 in a row. But for Leanne Ross to have done it every single time is amazing."