Jake Bugg: Notts County shirt sponsorship deal gives rock star a buzz
Last updated on .From the section Notts County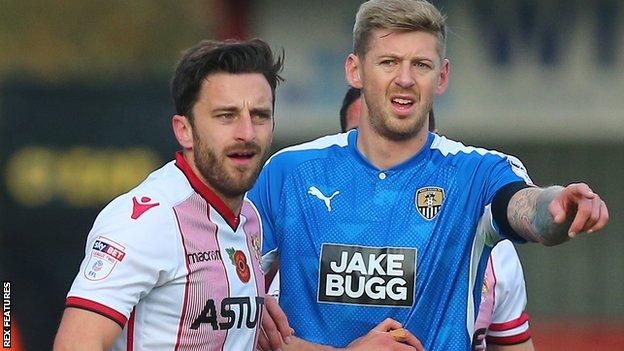 Rock star and Notts County fan Jake Bugg might never experience the thrill of having his name on the back of a Magpies shirt, but at least for the month of November, it is featuring proudly on the front.
The 23-year-old has been spreading the message about his boyhood team around the world since becoming a worldwide star, and now his name adorns the players' shirts as part of a sponsorship deal.
He signed a deal with Notts in June as one of 10 month-long kit sponsors for the 2017-18 season.
The Magpies are top of League Two after 17 games with 10 wins under former Bolton and Newcastle midfielder Kevin Nolan's stewardship.
"I wear my tracksuit, and I get asked about my team in other parts of the world," Bugg told BBC Radio Nottingham.
"It's amazing, to see your team out there playing nice football is great. For them to do it with your name on the front is even better.
"I'm sure there are places I've been like Germany or Brazil that might not have heard of them. It's nice to get the team's name out there."
When music and football collide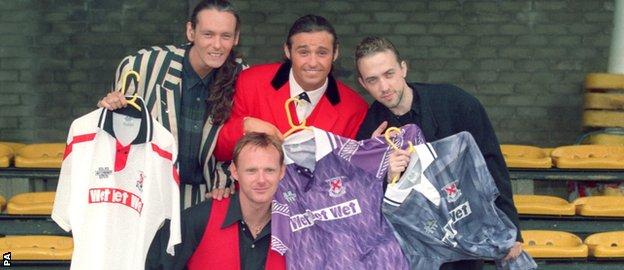 Wet Wet Wet used to sponsor Marti Pellow and the boys' favourite team Clydebank. Not just wishing they were lucky... Though they were later bought out by Airdrie United and relocated.

Greenbank FC Under-10s got the ultimate accolade when heavy metal heroes Motorhead agreed to their name and skull motif on their kits.

German Bundesliga side Fortuna Dusseldorf were sponsored by punk band Die Toten Hosen.

Hamburg-based St Pauli have had numerous link-ups with bands and musical artists, including Turbonegro and Dropkick Murphys.
Further investment?
Having watched from the stands at Meadow Lane in his youth, Bugg has been able to put his fame and finance to good use in support of the club.
However, there is no appetite to go further than sponsorship at this stage of his life.
"I saw an article about the club wanting to attract investors and sponsors, it seemed like a no-brainer," Bugg said.
"It wasn't about getting anything out of it, to be a sponsor I had to invest, it was more about helping Notts in any way I could.
"I don't know about that [one day becoming chairman], I'd feel under pressure as it is my team.
"If anything was going to go poorly then I'd feel responsible."
You can hear the full interview with Jake Bugg on BBC Radio Nottingham's Matchnight show through the BBC iPlayer.