Dundee Utd and St Mirren could not afford to be part of Scottish academy elite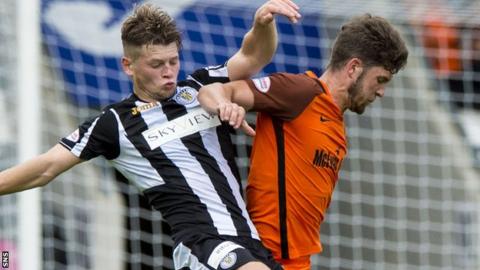 Dundee United and St Mirren have confirmed they will not be part of Scotland's new elite level youth academy system - and did not apply.
Celtic, Rangers, Hearts, Hibernian, Aberdeen, Motherwell, Kilmarnock and Hamilton Academical appear poised to make up the eight-team top band.
The Championship's top two admit they were priced out of the reckoning by the Scottish FA's Project Brave criteria.
They will instead be part of the "Performance Progressive" second tier.
United's city neighbours, Dundee, recently advertised for four full-time academy coaches as well as a full-time medical professional and scout for their youth system in a bid to meet the SFA demands.
St Mirren point to the need for extra coaches as a reason why they did not apply for an elite band that looks likely to be made up of eight out of the 12 Premiership clubs.
United academy director Brian Grant said they did not apply because "specific criteria are unattainable due to factors outwith our immediate control - an example being indoor facilities of a standard that does not exist in Tayside or the surrounding area".
"While many of the elite status criteria have been met, we do require further significant investment to realise our ultimate goal of elite status," he told his club website.
"This will include the appointment of a number of key full-time staff to work with the current staff and appointments made in the last six months.
"There is no doubt that we face challenges not faced by Premiership clubs, given the well-documented wealth gap between the Ladbrokes Premiership and Championship.
"Additionally, only last month, Premiership clubs received a windfall from Uefa that could in itself pay for the majority of elite-status requirements."
The SFA has yet to announce the make-up of the new academy set-up, but Grant said United were happy to have achieved the second tier for 2018 yet were hopeful of joining the elite level by 2020.
St Mirren issued a statement in response to some supporters contacting the Paisley club to express their disappointment at being in the second tier.
However, the club pointed out that: "Having done our research on this, we believe that, with our current, sustainable business model, this category will give us a best possible platform to work towards attaining elite level over the next three years.
"To achieve elite level we will have to employ five additional members of staff on a full-time basis (U18s coach, sports scientist, head of recruitment, performance analyst, head of children's programme).
"Over the next three years, we will actively strive to recruit these positions as fits in with our business model and the timeframe given to achieve elite level status."