Uefa official 'contemptuous' of Jersey international football bid, says Phil Austin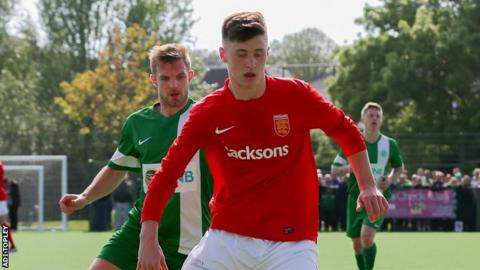 The head of Jersey's FA claims a top Uefa official has been "contemptuous" towards their application to become an international football nation.
Phil Austin says Uefa's legal affairs director Alasdair Bell has forced the island to apply before it is ready.
In September, the Court of Arbitration for Sport (Cas) ruled Jersey's bid to join must go before Uefa's congress.
Uefa says it was told by Cas to "transmit the application without delay". It will be heard in February.
Cas ruled that Jersey had the right to apply, but did not meet Uefa's criteria as it is not an independent nation.
Jersey Football Association president Austin told BBC Radio Jersey: "We had said to Uefa if we can go forward to membership, we don't want to be rushed to the next meeting, which is February 2018, because we'd need time to prepare, to talk to members, lobby and so on.
"We were told by a very high ranking Uefa official 'that won't happen, you won't be rushed, you'll be given 18 months at least to do it'.
"That was our expectation. Mr Bell, head of legal, has now said 'no, you've got to go forward to February 2018'."
Austin also claimed: "Mr Bell, whose project this is as head of legal, has really been quite contemptuous of our application from day one."
In response to Austin's comments, Uefa said in a statement: "Uefa was required by Cas in the Arbitral Award dated 28 September 2017 to transmit the Jersey Football Association's application for membership to the Uefa Congress without delay.
"Accordingly, the application for admission will be transmitted to the next Uefa Congress in Bratislava in February 2018, unless the JFA notifies us that they have withdrawn their application for membership.
"We have no further comments to make on the matter."
Part of Britain, but independently minded
The Channel Island of Jersey is a British Crown Dependency - it has its own government, makes its own laws and the Queen is head of state.
Its status is similar to Gibraltar, who were accepted into Uefa in 2013 after applying in 2007.
Cas upheld Gibraltar's application as it came before Uefa changed their rules to state that only sovereign nations could apply to become members.
Jersey, with around 100,000 residents, would be the sixth-smallest nation in Uefa by population if they were to have their application approved, ahead of San Marino, Gibraltar, Liechtenstein, Faroe Islands and Andorra.
Other 'non-nations' playing international football
Gibraltar - a British Overseas Territory
Faroe Islands - a self-governing country within Denmark
Bermuda - a British Overseas Territory
Puerto Rico - a self-governing Commonwealth in association with the USA
Anguilla - a British Overseas Territory
Aruba - an autonomous country within the Kingdom of the Netherlands
Montserrat - a British Overseas Territory
New Caledonia - a French overseas territory
Jersey is classed as an international nation in a number of other sports such as cricket and bowls, while it has its own team at the Commonwealth Games.
"We want to talk to all of the 50-odd members of Uefa and put a case over," added Austin. "They want to deny us the opportunity to do that.
"Independence in sport is not necessarily the same as constitutional independence, and we've been trying to get this point over.
"They don't want any small nations in like us, but we feel we're entitled to fight our corner on this and we'll push as hard as we can."
'Not everyone in Uefa is against us'
If Jersey were to succeed, they would be entitled to have their men's, women's and age-group sides play in international matches and qualifiers for the European Championships and the World Cup.
The island's league champions would also be eligible to take part in the qualifying stages of the Champions League and their second-best side in the Europa League.
"Not everyone in Uefa is against us," Austin said.
"We've made some good friends there and when we had a chap over in June he was bowled over by the Jersey football proposition and wanted to help us.
"Unfortunately it's the bureaucrats in Uefa who don't have the same view."