World Cup 2018: US Soccer exploring tournament for non-qualifiers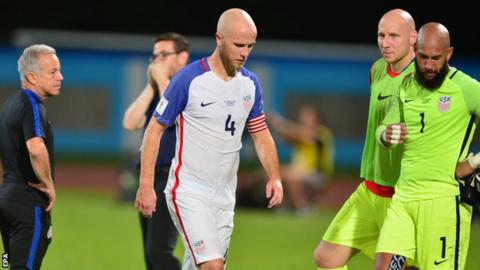 The teams that failed to qualify for the World Cup might yet have the chance to play in an international tournament next year.
That is because the United States Soccer Federation (USSF) is exploring the idea of hosting a competition featuring those who missed out on Russia 2018.
BBC Sport has learnt that the idea is at a preliminary stage.
Associations have yet to be contacted and US Soccer, whose team also failed to reach the World Cup, has yet to formulate a structure for the tournament.
It is also understood that the competition would need to attract the cream of the teams that missed out on qualification and their best players.
A major obstacle to its realisation could have been Fifa. But football's world governing body told BBC Sport that it would not stand in its way as long as it followed the usual rules and regulations of international football.
Such backing is expected with the organisation trying to reinvigorate international football, with a possible global league touted.
Michael Lewis, who has been writing about football in the USA for almost 40 years, is cynical about the reasons for US Soccer touting this tournament.
"This seems like a money-making idea," he told BBC Sport. "They would think about it as a positive revenue stream."
So which teams might play in the tournament?
There were some heavyweights of world football who failed to make Russia 2018.
Both four-time champions Italy and three-time runners-up Netherlands would undoubtedly top the billing at a USA tournament.
Then there is Chile, ranked ninth in the world, boasting the likes of Arsenal striker Alexis Sanchez.
Three African giants who were at Brazil 2014 could also feature. They include Ghana, whose squad includes the likes of Atletico Madrid midfielder Thomas Partey and West Ham midfielder Andre Ayew, five-time Cup of Nations winners Cameroon and also Ivory Coast.
Meanwhile, Gareth Bale's Wales, Czech Republic, Scotland, Austria, Bosnia-Herzegovina, Turkey, Republic of Ireland, Northern Ireland and 2004 European champions Greece could also be asked to compete.
With huge support for many of these teams in the United States, it could be worth participating. However, before major tournaments there are often friendlies between those who have missed out and those who have made it. How would a USA tournament fit in with the schedule?
Also, would players want to play in a competition of the stature of a 'Europa League' to Fifa's World Cup?
"I'm pretty sure the Italy players would rather go on holiday," added Lewis.
"I would also expect teams to field inexperienced players - that certainly would not help with the development of the US national team."
How much of a boost will this be for football in the US?
With a joint bid to host the 2026 World Cup being mulled over by Fifa, this would be a great opportunity for the USA to present its case.
Its premier domestic competition - MLS - is growing both in size and popularity, which is running in correlation with the growth of the country's Hispanic population who represent 35% of the league's fan base.
There are also the financial benefits, following the blow of missing out on World Cup qualification.
According to Forbes, the USSF will miss out on the $12.5m (£9.49m) paid by Fifa for reaching Russia 2018. And then there is Fox Sports, who might have felt a little punch-drunk after spending $425m (£322.76m) acquiring World Cup USA TV rights, which included next year's tournament. Business Insider said USA's failure was a "disaster" for the media organisation.
Could this proposed tournament build interest in the US before the main event and boost viewing figures despite the absence of the home team?
Lewis, who has written about USA at every World Cup since 1990, thinks not.
"I don't think it would make a difference to the size of the World Cup TV audience if we have this tournament or not," he added.
"There are so many supporters of other different nations in the country that I expect the figures to be big.
"What US Soccer need to do first is find a new coach."