Premier League: A minimum 190 games to be televised live from 2019-2020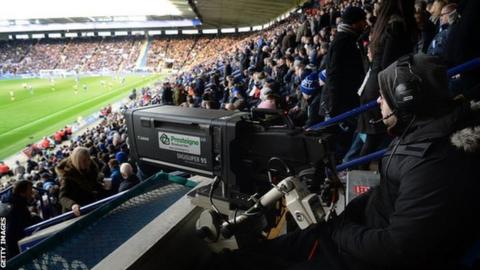 A minimum of 190 Premier League games will be televised live in Britain from the start of the 2019-20 season.
Premier League chairmen voted unanimously for the package, with the rights set to go out to auction before Christmas.
A new package of Saturday night games is likely to be offered to broadcasters, along with more midweek and Bank Holiday matches.
There will be a minimum of 22 additional live games on offer.
The new contracts will replace the record £5.136bn deal struck with Sky and BT Sport in 2015.
That three-season agreement represented a 70% increase on the previous £3bn deal, and involved 168 games being shown each season at an average cost to the broadcasters of £10.2m per match.
Sky paid £4.176bn to show 126 matches, including the first Friday evening games and both Sunday packages, and BT paid £960m for 42 games.
Fans' group the Football Supporters' Federation said it was "firmly opposed" to any increase beyond 190 live games - half the Premier League's total fixtures.
A statement read: "Any additional broadcast games would mean even more changes to kick-off times away from 3pm on Saturdays, with an impact of both uncertainty and inconvenience to the match-going fans, especially away fans, whose passion is a huge component of the 'product' that broadcasters want to buy and sell.
"Particularly in the event of a new Saturday evening TV slot being created, we urge clubs and broadcasters to give due consideration to issues of geography and travel, and to invest some of the huge broadcast revenues into supporting the attendance and contribution of match-going fans, especially away fans."
Analysis: Strictly v Saturday night football?
The next Premier League deal will likely herald an even greater battle for the remote control in households across the country.
That's because of the looming Saturday night prime-time clash between live top-flight football and big shows such as Strictly Come Dancing and X Factor.
But where will fans watch? Sky and BT will without doubt be in the mix once again for the bundles of games on offer.
The other X Factor in this tender process could be the big US tech companies such as Amazon and Apple. They are increasingly showing an appetite for live sports rights, as demonstrated by Amazon's recent deal for US Open tennis.
The industry speculation is that this tender process may have come too soon for the internet giants to make any major splash. It could, however, provide a taste for what lies ahead for both the Premier League and supporters.