Tom McHale: Truro City aiming for National League South title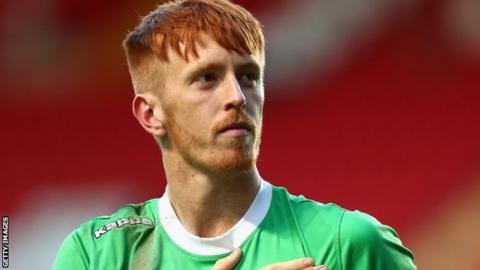 Truro City goalkeeper Tom McHale says the club are focused on trying to win National League South.
The White Tigers beat previous leaders Dartford having lost at League One Charlton Athletic in the FA Cup first round six days earlier.
City are third in the division, four points behind leaders Braintree Town, who they play on Tuesday.
"We've proved that we're there for the long run, beating the team who are top of the league," McHale said.
"It was a massive win and it showed we're not taking the league lightly, we're going to go and do all we can to win it."
City travel to 17th-placed Hungerford Town on Saturday aiming for a second league win in six games.
And McHale, who has impressed during the club's first-ever run to the first round of the FA Cup, says the side has grown under boss Lee Hodges and his assistant Chris Todd.
"At times last year I don't think we knew how to deal with the likes of the teams we were playing," he told BBC Radio Cornwall.
"This year we're in the changing room before the game and we know how we need to play against teams if we're going to beat them.
"The game plans are a lot clearer, everyone does know their roles and that comes from the starting 11 to the substitutes as well.
"We're all pushing each other for starting places, the competition that we've got between players is brilliant and I think that's why people are performing to such a high level this season."