Birmingham top arrest list as Leeds and Manchester City again near top of data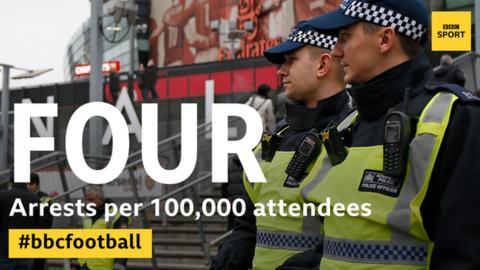 More Birmingham City fans were arrested than at any other club in England's top five leagues for a second consecutive season in 2016-17.
The Championship was the league with most arrests (455) and 72 of those were fans of Birmingham.
West Ham supporters were behind them on 67, however, arrests across the leagues fell 14% from the 2015-16 season.
Grimsby fans made up more than a quarter of all new banning orders issued across the 24 League Two teams.
A banning order stops a fan attending fixtures for a set period of time and the total number in force at the end of the 2016-17 season had fallen by 7% to 1,929 by the end of the campaign.
Arrests have now fallen significantly over recent seasons, dropping from 3,089 in 2010-11 to 1,638 in 2016-17.
Government data shows that in the most recent season, violent and public disorder offences made up over half of arrests, while fans arrested for throwing missiles saw a significant jump from 59 to 91.
League Two sides Cheltenham Town and Accrington Stanley are the only Football League clubs in Britain without an arrest to their name in 2016-17, while a dozen clubs in the National League can stake the same claim.
Birmingham, Leeds and Manchester City fans were in the top-five clubs for arrests in both the 2015-16 and 2016-17 seasons.
Around a third of Birmingham's 72 arrests were for public disorder offences but trouble at their St Andrew's home is on the up. At the end of the season, 25 of their 72 arrests were at home fixtures, a jump from nine 12 months earlier.
For the second season in a row the Championship proved the most troublesome league with 455 arrests (28%).
But arrest numbers dropped in all five leagues, with the Premier League seeing the biggest fall from 431 to 389.
The 14% year-on-year fall across the five leagues translates to a reduction of 257 arrests in total.
Public disorder (31%), violent disorder (21%) and alcohol offences (16%) remain the most common offences. But missile throwing and chanting offences have seen significant swings.
There were just seven arrests for racist or offensive chanting during the campaign despite anti-discrimination group Kick It Out stating they had seen the number of incidents reported to them at games rise to 194 during the season.
Lord Herman Ouseley, Kick It Out's chair, told BBC Sport that disparity was likely down to better-trained stewards negating the need for police action in certain incidents.
He added: "With an increase in discrimination reports received by Kick It Out for the 2016/17 season, it is important to reflect that racist behaviour still exists in football and that it must be challenged by all parties involved in the sport."
Premier League side Newcastle United had the most active banning orders in place at the end of the 2016-17 season with 111.
Wolverhampton Wanderers (75), West Ham (57) and Millwall (55) were the only other clubs with more than 50 in action.
A banning order typically lasts between three and five years but this can be longer if a custodial sentence was imposed for the offence.
As banning orders can be active for several seasons a look at the ones imposed during the most recent campaign shows Wolves picked up the most with 32, ahead of West Ham (30) and Manchester United (24).