Watford pay out £2,000 in taxi fares for supporters stranded en route to Newcastle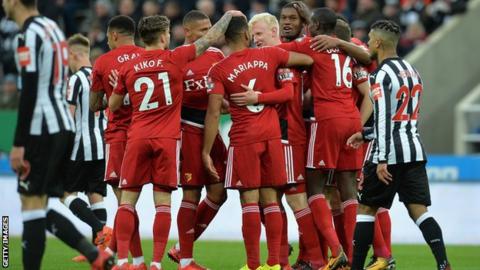 Watford paid a £2,000 taxi bill to rescue stranded fans after their coach broke down en route to Saturday's match against Newcastle at St James' Park.
Between 40 and 50 supporters were stuck near Donnington Park Services just off the M1 in Leicestershire, about 100 miles into their 270-mile journey.
But they arrived in time for kick-off and were rewarded with a 3-0 victory.
Meanwhile, Chelsea have apologised to fans who missed a specially chartered train after Saturday's draw at Anfield.
'Watford went above and beyond'
Simon Alexander was one of the Watford fans who was travelling on the official supporters' bus with his 14-year-old son.
"I live in Northampton so my alarm went off at 04:15, I picked up my son and we left Watford at 06:30," he told BBC Sport.
"But about two hours into the journey the coach started juddering and it just died on the hard shoulder.
"There was one coach behind us with space for eight people - so on got a family of six plus two others. But this left 30 plus people stranded on the side of the motorway.
"The bus eventually limped to the nearest services, we got off, had a cup of coffee, and we were only there for an hour or so before the taxis arrived.
"The club got us all in lovely eight-seater mini vans and we got up to Newcastle at about 1.30pm. It was absolutely perfect."
A Watford supporter of over 40 years, Alexander said the gesture was "staggering".
"I don't think any other club would have done that. My cab alone was £347. We were all so grateful.
"It was a brilliant day only made possible due to the generosity of the club. They went above and beyond. That's the type of club we are."
Chelsea 'investigating travel issue'
Chelsea supporters had to wait at Liverpool South Parkway station until midnight for a bus to take them back to London after their side's 1-1 draw.
The train, chartered by Chelsea's travel partner Thomas Cook, left on time at 20:40 GMT even though fans from two coaches had not boarded it.
In a statement on social media, the club said an investigation has started.
The failure of the coaches to arrive at the station on time was put down to heavier than expected traffic leaving Anfield after the match, which kicked off at 17:30.
"We apologise for the inconvenience our supporters experienced returning from Liverpool last night by train," the Chelsea statement said.
"We are looking into the issue with our travel partner and will update supporters once we have completed our investigation."
Thomas Cook responded to one aggrieved Blues fan on social media saying that the charter train had "a set timed path in between normal passenger services".
"Unfortunately it isn't as easy as just delaying its departure," the company added.
In 2007, the then Sunderland chairman Niall Quinn paid out £8,000 in taxi fares after about 80 fans were left stranded at Bristol Airport when a flight was grounded.