Bedford-Fleet non-league fixture postponed after home team refuse to play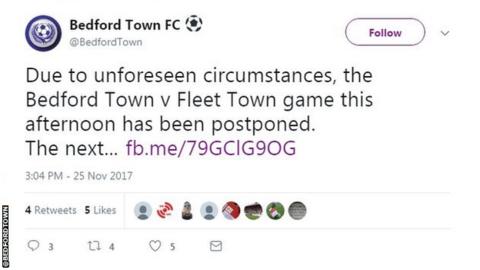 Bedford Town's home game against Fleet Town was postponed just 10 minutes before kick-off on Saturday, after the Bedford players refused to play.
Bedford said "unforeseen and exceptional circumstances" had forced the postponement of the Evo-Stik League South East game at The New Eyrie.
The distance between the two towns is approximately 81 miles.
"[Events] will be subject to a League disciplinary investigation," Bedford chairman David Howell told BBC Sport.
"I am not therefore at liberty to comment at this stage."
Fans were issued with refunds.
Howell said a report that Bedford players had issued the club with an ultimatum before the weekend over "unfulfilled promises" was a "total fabrication".
He added: "I knew nothing about the players' intention to refuse to play until 14:15 GMT. The reasons behind their actions are still unclear."
Fleet fans who had made the journey were frustrated by the postponement with Ash Lloyd writing on Twitter: "Five-hour journey round trip for us and you walk out 10 minutes before kick off. Whatever your problem with your club... have some respect for us! Wasted Saturday for us still travelling home!"
Photographer Andrew Hazelden said: "Nice three-and-a-half hour drive to Bedford Town today only for the home team to walk out just before start. Not impressed, Southern League. Very poor."
Fleet's Twitter account said: "We would like to thank any supporters who made the long trip for their amazing continued support."
When only one team turns up
Scotland had a similar experience to Fleet Town when they travelled to Estonia for a World Cup qualifier in 1996, a game in which Uefa declared the floodlights unfit and switched the kick-off to the afternoon.
The Estonians did not turn up, in protest. Scotland did, kicked-off and the game was instantly abandoned. They later replayed the match in Monaco, with the result a 0-0 draw.