Sam Allardyce: Everton to name ex-England manager as boss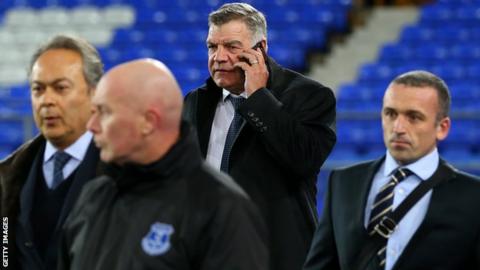 Sam Allardyce is expected to be confirmed as Everton's new manager after a five-week search for a successor to Ronald Koeman.
The former England boss watched Wednesday's 4-0 win over West Ham, which moved Everton up to 13th.
Allardyce, who has been out of work since leaving Crystal Palace in May, discussed terms earlier in the day.
He will assume control from caretaker David Unsworth, who has been in charge since Koeman was sacked in October.
Dutchman Koeman guided Everton to seventh place in his first season in charge last term, but was sacked the day after a 5-2 home defeat by Arsenal on 22 October.
In eight matches under under-23s manager Unsworth, Everton won twice and suffered heavy defeats at the hands of Lyon, Atalanta, and Southampton.
The Toffees spent more than £130m on new players in the summer but have struggled without last season's top scorer Romelu Lukaku, who was sold to Manchester United for £75m in July.
Allardyce left Palace after just five months - his first job since an ill-fated one-game spell as England manager - having led the club to eight wins in 21 games to secure a 14th-place finish in the league.
Allardyce facts and figures
Everton will be Allardyce's seventh Premier League club - that is more than any other manager. Harry Redknapp is next on the list with five.
He has never been relegated from the top flight as a manager and secured promotion to the Premier League with both Bolton and West Ham.
The Englishman has a Premier League win percentage of 33.8%.
'Not exciting, but what Everton need'
Former Everton midfielder Leon Osman told BBC Radio 5 live: "Does the Allardyce appointment excite me? No. Is it possibly what we need right now? Probably, yes.
"If games are won, then fans will warm to him. Long term, maybe not.
"Like at Bolton, he has some quality players here so hopefully he can produce something similar at Goodison."
Former Arsenal and England striker Ian Wright said the appointment "had to happen" as Everton players had not performed for Unsworth.
"The way they've played and what we've seen they've had no respect," he added. "They've been waiting for the next manager, there has been nothing in the performances on the pitch for him. It's been non-existent."
What he said in May...
When Allardyce left Palace last season, where he enjoyed his highest win percentage in the Premier League, he said he had "no ambitions to take another job".
He added: "I want to be able to savour life while I am still relatively young, and when I am still relatively healthy enough to do all the things I want to do - like travel, spend more time with my family and grandchildren without the huge pressure that comes with being a football manager.
"I simply want to be able to enjoy all the things you cannot really enjoy with the 24/7 demands of managing any football club, let alone one in the Premier League."
Sam Allardyce's Premier League record
Games
Win
Draw
Loss
Win %
Bolton
226
80
66
80
35.4
Newcastle
21
7
5
9
33.3
Blackburn
76
26
21
29
34.2
West Ham
114
35
28
51
30.7
Sunderland
30
9
9
12
30
Crystal Palace
21
8
2
11
38.1
Total
488
165
131
192
33.8
Analysis - 'a combination of desperation and necessity'
BBC Sport chief football writer Phil McNulty
Everton's appointment of Sam Allardyce is the result of a combination of desperation and necessity on the part of major shareholder Farhad Moshiri.
If Allardyce truly was the leader Moshiri says he required he could have appointed him after their first contact in early November - when the 63-year-old withdrew from the process citing the lack of an offer - and before the doomed pursuit of Watford's Marco Silva.
In the intervening period Everton's situation has become desperate as caretaker manager David Unsworth has been unable to stop performances and results declining on an alarming scale.
Everton's 4-1 loss at Southampton made Moshiri, who likes a star in the technical area and even harboured wildly unrealistic hopes of attracting Atletico Madrid's Diego Simeone, turn back to Allardyce.
It left Allardyce in a powerful negotiating position as Everton went to him for his brand of pragmatic troubleshooting that served Sunderland and Crystal Palace so well.
From Allardyce's point of view he has been handed arguably the biggest club and transfer fund of his managerial career but will need to make a fast start to quell the undoubted scepticism about his arrival from some elements of Everton's fan base.