Renato Sanches: Swansea boss Paul Clement defends midfielder after criticism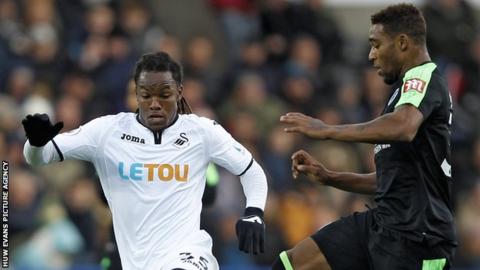 Swansea City boss Paul Clement has defended Renato Sanches after the midfielder was criticised by pundits.
Sanches was substituted after 71 minutes in Swansea's 0-0 draw with Bournemouth on Saturday.
Former Wales midfielder Robbie Savage said Sanches was "woeful", while ex-Tottenham manager Tim Sherwood said: "If that was a kid from the academy you would never ever see him again."
Clement said: "I've got my own ideas about the way he played."
Asked about Savage and Sherwood's comments, he added: "I didn't see that (the criticism) on Saturday.
"Woeful for me would suggest everything you do is wrong, is incorrect, is poor. If that had been the case he would have come off much earlier."
Sanches joined Swansea on a season-long loan from German champions Bayern Munich on the last day of the summer transfer window.
There were high expectations for the Portuguese Euro 2016 winner but a combination of injuries and indifferent form has hampered his start to life in south Wales.
The 20-year-old has played eight games in all competitions for the Swans but has missed three Premier League fixtures due to a thigh injury.
Despite the negative comments, Clement said Sanches showed positive signs as Swansea earned their first league points since a 2-0 victory over Huddersfield on 14 October.
"There were some very good things in there. It shows for someone of his age that he's got brilliant physicality and he's courageous," Clement said.
"He doesn't go hiding when he makes a mistake. You don't see him disappear or go to the fringes of things. He comes back and goes for the ball again."
Clement, who worked with Sanches during his spell as Bayern's assistant manager, says the Portuguese player's position leads to more criticism
"The fact that he is so involved in play there is therefore a greater probability that you are going to take some risks rather than standing on the fringes of things," Clement added.
"Sometimes you can end up with too much time, too much space and that thought process of what's the best thing to do here rather than just play simple with your natural instinct."