Women's World Cup: Wales result means an enjoyable Christmas - Ludlow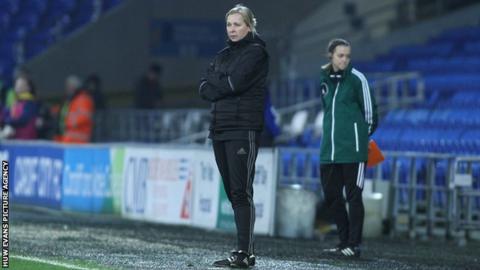 Wales manager Jayne Ludlow said her squad can now enjoy Christmas after putting themselves in a strong position to qualify for the 2019 World Cup.
Kayleigh Green scored Wales' winner against Bosnia-Herzegovina and goalkeeper Laura O'Sullivan made a late penalty save to ensure victory.
Wales are top of Group 1 with 10 points from four games, ahead of their next match, with England on 6 April, 2018.
"It is a fantastic result for us," Ludlow told BBC Wales Sport.
"We can look forward to Christmas now.
"The girls have some big games to come, but we've achieved all the targets we have set so far and they have done it again today, which is fantastic for us.
"When we come away, it is a tough task for us, I am not sure we played as well as we could have, but we fought and the effort put in is what got us the result.
"Today's game is an extreme high for us after a rollercoaster game.
"But we have worked hard as a group and it is really nice to see it paying off."
Ludlow believes the contest sets her side up well for the match with England in Southampton as Wales bid to qualify for a first ever major tournament.
"We are only halfway through the campaign and we need to keep fighting and keep pushing," she said.
"We focus on the next game and that is a huge one against England [in April]. The girls have challenges to meet over the next few months.
"England are team full of good individuals… but we are ready to fight."
You can now add WSL 1 notifications for line-ups, goals, kick-off, half-time and results in the BBC Sport app. Visit this page to find out how to sign-up.