Sam Allardyce: Why Everton are turning to former England boss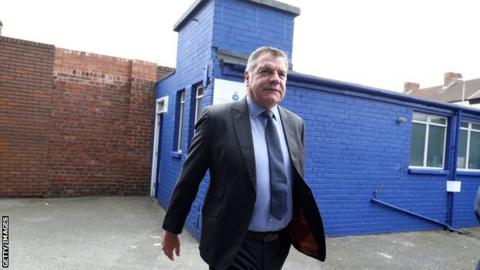 Everton's appointment of Sam Allardyce ends the long and turbulent search for a successor to Ronald Koeman, who was sacked by the Premier League club more than five weeks ago.
It is an unexpected alliance because talks between Allardyce - last in management at Crystal Palace before resigning in May - and the Toffees initially stalled when the ex-England manager withdrew from contention after failing to receive an offer.
So how has it come to this?
Desperate measures?
Everton have declined at such an alarming rate - during which time they reached a dead end in their pursuit of Watford's Marco Silva - that emergency action was needed.
And it has come in the shape of 63-year-old Allardyce, one of British management's most enduring but divisive figures.
It appears to have taken a second straight capitulation - Sunday's 4-1 loss at Southampton, following the 5-1 home Europa League humiliation at the hands of Atalanta - for Everton to pursue Allardyce with a zeal he clearly did not detect when contact was first established.
Allardyce is not Everton's first choice - how can he be? If he was, he could have been appointed a month ago.
Results and performances, Wednesday's 4-0 win over West Ham aside, have been so lamentable alarm bells started to ring loud and clear inside the Goodison Park boardroom - rekindling almost forgotten interest in 'Fireman Sam'.
No matter how Everton dress this up, it is an appointment made out of desperation and serious necessity, not with the long-term vision owner Farhad Moshiri has always had in mind.
How will Allardyce be received at Everton?
Allardyce has been in this movie before.
He was never truly accepted for failing to embrace the so-called 'West Ham way' when he did exactly the job asked of him by getting the Hammers out of the Championship and back into the Premier League in his first season, then establishing them in the top flight before leaving after four seasons.
And Allardyce, who has spent his managerial career fighting off accusations he employs a basic and physical approach, has already been described as a personality whose approach does not fit Everton's purist 'School of Science' tag.
Initial links with Allardyce were largely greeted with indifference and hostility by Everton fans, but the passage of time - and some woeful performances - has softened the mood among some supporters, if not all.
Allardyce's former Bolton team-mate Peter Reid, who won two league titles, an FA Cup and a European Cup Winners' Cup at Everton, is one who welcomed the prospect of him taking charge.
"Sam has a proven Premier League record and will get players organised. It is important the fans get behind him," said Reid.
"This Everton team is at a real low. It needs direction - and not the one hurtling towards the Championship.
"It certainly won't be easy on recent evidence, but Sam has been in similar situations before and has the knowhow to get the team up the table."
Allardyce's Premier League record
Games
Win
Draw
Loss
Win %
Bolton
226
80
66
80
35.4
Newcastle
21
7
5
9
33.33
Blackburn
76
26
21
29
34.21
West Ham
114
35
28
51
30.7
Sunderland
30
9
9
12
30
Crystal Palace
21
8
2
11
38.1
Total
488
165
131
192
33.81
Allardyce will need to make a fast start if fan scepticism is not to return, but he will be aided by iron-clad confidence and a thick skin.
His determination to do things his way has already been proven by the appointment to his backroom staff of former Liverpool player and coach Sammy Lee, whose arrival prompted open outrage from many Everton fans.
And Allardyce will not be daunted by the fact arguably the biggest club job he has taken on has arrived late in his managerial career.
After coming in to Crystal Palace and saving them from relegation last season, the chance to take charge at Everton offers him another opportunity to continue his rehabilitation after the low of losing the England job after just one game following a newspaper sting.
But this deal nevertheless bears all the hallmarks of a marriage of convenience. Allardyce has much to do - and quickly - to feel the love at Goodison Park.
Why Allardyce again?
Allardyce's arrival at Everton - coupled with the appointment of Alan Pardew at West Brom - has reignited the debate about managers who have been around the block a few times being handed attractive Premier League jobs ahead of the younger brigade.
Roy Hodgson, who endured a humiliating end as England manager, returned to manage Palace at 70 in succession to Frank de Boer, while 54-year-old David Moyes was the surprise choice to take charge at West Ham after Slaven Bilic's dismissal.
In Everton's case - and more than likely in those others - it is tinge of desperation and a very liberal helping of fear. Fear of relegation from the Premier League.
The Toffees started the season high on optimism under Koeman after finishing seven last season and spending more than £130m in the summer.
However, a flawed strategy resulted in an unbalanced squad.
There were three new number 10s in the shape of Wayne Rooney, Davy Klaassen and Gylfi Sigurdsson, and no replacement for top scorer Romelu Lukaku after his move to Manchester United.
Moshiri will hope Allardyce can, at the very least, ensure his expensively assembled squad retain their top-flight status. The owner does not want to be left reflecting on the wisdom of a bolder appointment looking up from the Championship next season.
The Englishman has done it before at Sunderland and Crystal Palace and proudly wears the tag of never being relegated from the Premier League as a manager.
Allardyce will also bring vast experience. Only Sir Alex Ferguson, Arsene Wenger, Harry Redknapp and Moyes have managed more games than him in the Premier League - his first at Everton will be his 489th, having won 33.8% - 165 - of the previous 488.
What will be Allardyce's top priorities?
In basic terms, to stop Everton conceding goals and start scoring them.
This is easier said than done as the Toffees have one of the worst defences in the Premier League - conceding 28 goals while only scoring only 17, with four of those coming in Wednesday's thrashing of West Ham.
While Everton blew West Ham away, they looked a suitable case for the Allardyce treatment at St Mary's just four days earlier, with an embarrassingly slow and shapeless defensive unit, a midfield that was an open invitation to the opposition and a toothless attack led by hard-pressed young striker Dominic Calvert-Lewin.
On arrival at Sunderland and Palace, Allardyce worked relentlessly on defensive shape and getting set-pieces right. He firmly believes curing the problem at one end will lead to a solution at the other.
Everton have looked slow, sloppy and unfit. Training sessions will be fiercely intense and players can be expected to receive specific tactical instructions on every opponent.
Allardyce has long been scornful of his reputation as a dinosaur and he will be afforded all the finance and facilities at Everton's Finch Farm training ground to put what he regards as cutting-edge scientific strategies into place.
Goalkeeper Jordan Pickford has been a shining light, but Allardyce must tackle the twin defensive problems of restoring £30m summer signing Michael Keane's shattered confidence while also solving the obvious issue created by thirty-somethings Leighton Baines, Phil Jagielka and Ashley Williams remaining in place without obvious younger replacements.
Allardyce relies on width and strike power but he will find little on arrival at Everton. The failure to replace Lukaku almost amounted to gross footballing negligence, while there is little natural width beyond rookie Ademola Lookman and the fading Kevin Mirallas.
He will also surely look to use Sigurdsson in his natural home of number 10 - but what will this mean for Rooney and Klaassen? The Dutchman's Everton career could even be over just months after Koeman handed over £23.6m to Ajax.
The basics will occupy Allardyce's in-tray first - but he will find plenty more work piling up on his desk and on the training field after that.
Has Moshiri been damaged by the managerial saga?
Moshiri has won widespread praise for his heavy investment and obvious ambition since he bought a 49.9% stake in Everton in February 2016 after selling his shareholding in Arsenal.
He has given the club spending power in the market they have not enjoyed in the modern era and plans for a new stadium are finally taking shape after years of frustration, with contracts exchanged on a prime site on the banks of the Mersey at Bramley Moore Dock.
However, some of the gloss has been taken off that reputation throughout the course of an often chaotic search for a manager. Everton evidently had no clear plan in place when Koeman was sacked on 23 October.
Caretaker manager Unsworth, moved from his job as under-23 coach, oversaw two wins in what was frequently a tortuous spell in temporary charge, with a freakish 3-2 victory over Watford from two goals down in a game that lasted 100 minutes at Goodison Park coming before the West Ham game.
Moshiri, leading the search with chairman Bill Kenwright seemingly less influential, appeared to lack clear focus until after the thrashing at Southampton.
The 62-year-old billionaire businessman remains a largely mysterious figure to Everton supporters, who have become increasingly mystified by his policy of issuing occasional communiques via one broadcast journalist - to that broadcaster's credit it should be said - rather than through conventional club channels.
He has not given any wide-ranging interviews on his plans for Everton, preferring to keep a low profile.
This, of course, presents no problem when results are good, spending is heavy and times are not troubled by turbulence.
Everton's current position is almost overwhelmed by turbulence and the lack of clarity had led to suggestions of boardroom inertia and hints that Moshiri and Kenwright were not on the same page.
There is no doubt Kenwright, an Everton sentimentalist to his boots, would have loved the opportunity to give Unsworth a chance until the end of the season, if only to buy time. Results wrecked that hope.
Moshiri, in contrast, wants a star name in the dugout - but circumstances have forced him to make the pragmatic choice.
It has been a decision a long time in the making. Much rides on it for Moshiri and Everton - arguably even more than for Allardyce.