Ross Allen: Guernsey FC 'shock' at record goalscorer's decision to leave club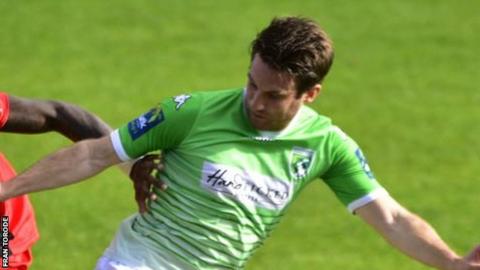 Guernsey FC's all-time leading scorer Ross Allen is to leave the club.
The 30-year-old, who has scored 239 goals in 226 games, is moving to New Zealand at the weekend.
Allen helped the island side win back-to-back promotions in their first two seasons, as well make the FA Vase semi-finals, and scored a golden boot winning 54 goals in 2013-14.
"It's a bit of a shock in a sense of timing, but we did know it was coming," Guernsey FC director Nic Legg said.
Allen took a break from the Isthmian league Division One South side 12 months ago to go travelling, and it is that bug which has seen him decide to emigrate.
In his time at Guernsey FC Allen has scored three or more goals on 28 occasions - 20 hat-tricks, five four-goal hauls, twice scoring five times in a game and once scoring six.
"This is the last year I could apply for my working holiday visa, so the opportunity is too good to pass up," Allen told the Guernsey FC website.
"I feel that travelling woke me up to a few things and it was time to make a decision.
"The plan is to find some work over there and get set up with a team, whilst exploring as much as I can.
"I love Guernsey FC but I have to do what's right for me. I'm eager for new adventures and experiences, and I have the freedom to pursue those challenges myself."
Allen helped Guernsey win Island Games football gold in 2015, having also been part of the Guernsey side which won the FA Inter-League Cup and represented England at the Uefa Regions' Cup in 2010.
It was an experience which prompted the set up of the Guernsey FC club side - the first Channel Island football team to play in the English football pyramid.
"As a Guernsey FC fan I want Ross Allen in my team, he's a fantastic talent and his goal record, scoring more than a goal a game, is absolutely phenomenal," added Legg.
"But a team can't rely on one player, the way I'd like to look at it is it is very disappointing, but what a fantastic opportunity for the likes of Robbie Legg, Kyle Smith and others.
And Legg says Allen may return to try and help fire Guernsey to Island Games gold on home soil.
"I would be very surprised if come the 2021 Island Games Ross Allen, a proud Guernseyman who loves the Island Games, doesn't want to be in Guernsey and be involved in that.
"If he is it wouldn't surprise me if Ross fires the goals that gets us a gold medal."