Rangers AGM: Chairman Dave King says progress made on manager hunt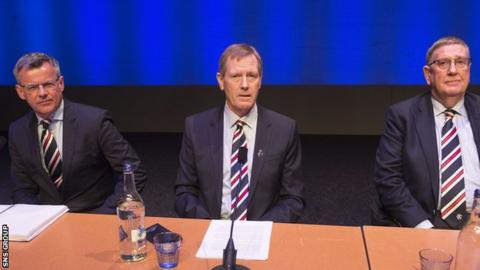 Rangers chairman Dave King told the annual general meeting of shareholders that progress is being made in the club's search for a new manager.
Pedro Caixinha was sacked five weeks ago, and King said developments are imminent, with a shortlist of candidates, including managers currently employed at other clubs.
King insisted that the board were right to take time over the appointment.
And he revealed the new manager will be offered a three-year contract.
"What would truly be wrong is if the board made a quick knee-jerk appointment without a thorough consideration of the options available at the time just because it appealed to certain sections of the media, or to some of the more outspoken supporters," King said in a statement to the shareholders.
"The appointment of a manager is far too serious for us to endorse such a frivolous approach.
'We should have something to report shortly'
"The search for Pedro's replacement has also been thorough and of appropriate duration under the guidance of Mark Allen, the director of football.
"Based on the manner of Pedro's departure we had to first re-evaluate the criteria we required of our new manager.
"In this instance, however, our short-listed candidates include individuals presently under contract and that adds an additional unavoidable time element. We should have something to report shortly."
Caretaker coach Graeme Murty has overseen five matches since the departure of Caixinha, winning three and losing two, including a 3-0 win over Aberdeen at Ibrox last night.
The Aberdeen manager, Derek McInnes - who signed a new three-year contract in the summer - distanced himself from the speculation last week by saying he views his future at Pittodrie.
King maintained that the board collectively made the decision to appoint Caixinha and that it was not a mistake, despite the Portuguese manager only lasting seven months in the role.
"On the issue of manager appointments, I personally don't subscribe to the position of those who advance the view that it must have been wrong to have hired a particular manager simply because the results during the season necessitated the removal of the individual in question," the Rangers chairman said.
"Nearly every manager is fired at some time - often repeatedly - but there is no credible room for recrimination and finger pointing as long as the appointment was made in accordance with an agreed process that assesses all the risks when making such appointment. There is no such thing as a risk-free managerial appointment."
King also admitted that the summer transfer of Barrie McKay to Nottingham Forest for £500,000 undervalued the winger.
The 22-year-old was sold as he entered the final year of his contract, and has scored four goals in 18 appearances for the English Championship side.