Oscar Threlkeld: Plymouth Argyle defender ready to return after injury setback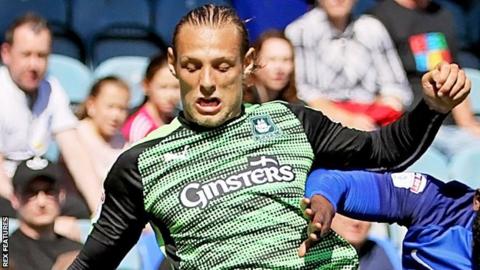 Plymouth Argyle defender Oscar Threlkeld says will not shy away of any challenges, despite only just returning from a broken leg.
The 22-year-old was injured in a 50-50 challenge during an EFL Cup tie against Bristol City in August.
He returned to action on Tuesday having missed 21 matches.
"If it came up again I'd definitely go in full steam ahead, that's the sort of player I am, I'm not going to back out of anything," he told BBC Radio Devon.
Threlkeld tried to return from his injury two months after it happened, but lasted just one half in the League One loss at home to Fleetwood.
"The initial diagnosis was four to six weeks, but it took a lot longer than it should," added the former Bolton youngster.
"That was down to the bone healing itself, you can't do anything about that, it's just the way it is.
"Going into the Fleetwood game, both myself and the gaffer spoke and we both agreed that I would play.
"I was fine going into that game, but as soon as the first contact came in I felt it get sore so I told the physio and said 'I should be alright in the next few minutes, it'll calm down'. The next tackle came in and the next, but it became too sore."
Gary Sawyer shifted from left-back to take Threlkeld's place on the right side of defence, with Aaron Taylor-Sinclair impressing as a replacement for Sawyer.
"It's not an easy thing for me to go back into the team, we've all been playing to a high standard, so I've got to work hard in training and hopefully try to get back into my position," Threlkeld said.
"But if Gary and Aaron have been playing well, it's going to be hard for me to get back into the team."