Lewis Grabban: Sunderland boss Chris Coleman says no contact from Bournemouth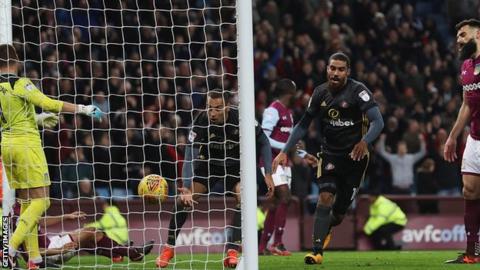 Sunderland have had no contact from parent club Bournemouth regarding a recall for loanee Lewis Grabban, says Black Cats boss Chris Coleman.
The 29-year-old striker joined Sunderland on a season-long basis from the Premier League side but has a release clause in that contract.
He has scored 10 goals in 16 games since joining the Black Cats in July.
"We've not heard anything from Bournemouth to suggest that would happen," Coleman told BBC Newcastle.
"The contract is the contract and there's nothing we can change, but the player's fairly happy here, from what I can see.
"We've not had contact but I'm sure from what he's done so far there'll be plenty of admirers. We hope Lewis will be here for the remainder of the season."
The potential of Grabban's exit during the January transfer window is most likely to come from another team, after Cherries boss Eddie Howe said he was "free to find a new club" in pre-season.
"That is a possibility," added Coleman. "I'm not anticipating it but you never know. If it does happen we have to be on the front foot and looking at who might come the other way."
'Mettle and courage'
Coleman takes charge of his first home game since being appointed by Sunderland on Saturday, having won one and lost one since taking over at the Stadium of Light.
He inherits a side on a record 20-game winless home run, with Reading the visitors.
However, he has already put one unwanted streak to an end, stopping their 16 league match losing streak with victory at Burton last weekend.
Watford were the last team to lose on Wearside back in the Premier League, in December 2016.
"I know what's been said about the Stadium of Light," said Coleman. "We've not won there for so long, but it's not going to change unless we change it.
"I've been a player, I loved a Saturday afternoon whether I was playing good, bad or indifferent. I loved being on the pitch, playing a match, being involved.
"Everybody has bad times, but you have to show mettle and courage and that's how you get over them. That's how you bond and build team spirit. That's how you do it.
"If we don't do that and play our kind of football that's not going to happen, but we can't let the opposition play their football either. We can't lose on every front.
"It's about being focused, standing our ground and standing our corner - the more our players that do that, the more chance we can get a result."
Sunderland boss Chris Coleman will be the special guest on BBC Newcastle's Total Sport programme on Thursday, 30 November from 17:45 GMT.
The show is available to listen again on the BBC iPlayer.