Ian Holloway lets his son tattoo him having "run out of excuses"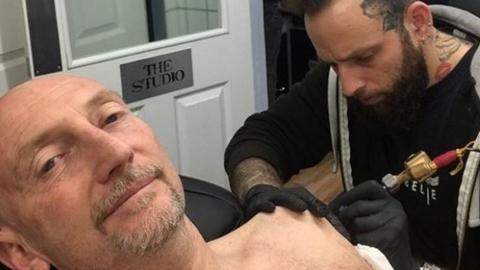 They say the relationship between a tattoo artist and client is a special one.
So when Queens Park Rangers manager Ian Holloway decided to entrust someone with his first bit of "ink", he understandably took his sweet time mulling it over.
Eventually, he picked an artist - his son.
Will Holloway said his dad "finally ran out of excuses" on Wednesday having had his first session under the needle.
Posting on Instagram, the QPR boss said "I told my boy I will only ever let you tattoo me when you're good enough and that day has come!"
"Chuffed to beans I made it through the three hours without fainting or crying – the pain was definitely worth it," he added.
There is still time for that though - Ian has to go back to have it finished in the next few weeks and has even teased us with the promise of pictures when it's complete.
Our favourite thing about this, is that Ian Holloway now has Instagram.
Expect more gems like this (of him and Rangers captain Jamie Mackie) in the near future: