Team-mates Hazard and Luiz are showing new levels of trust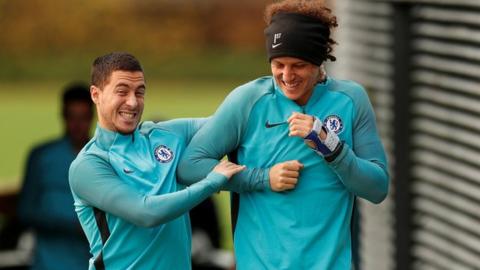 Chelsea's David Luiz may have sat out training on Monday but now we know what he was up to.
By the looks of Eden Hazard's Instagram post, Luiz has taken on the role of team barber by helping his colleagues with a spot of male grooming.
Sorry, this content is no longer available.
Hazard looks remarkably relaxed considering his Chelsea team-mate has a sharp cut-throat razor near his neck.
"You have to trust your family," said Hazard who nicknamed the Brazilian "The Cobham barber", referring to Chelsea's training facility.
"Good job 👍🏻 David Luiz but please my friends don't try this at home!" he added.
Now, we have many questions following this post:
1. Is Eden Hazard the most trusting a man in the world to allow Luiz - a.k.a Sideshow Bob - near his throat with essentially a deadly weapon?
And...
2. What procedure is Willian (bottom left) waiting for?