Pep Guardiola: Man City boss faces no action over Nathan Redmond confrontation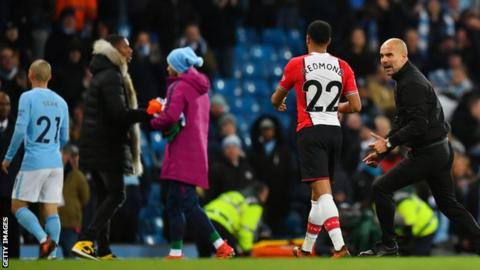 Manchester City boss Pep Guardiola will face no Football Association action over his heated post-match discussion with Southampton's Nathan Redmond.
Guardiola approached the Saints winger after Raheem Sterling had scored a late winner for the Premier League leaders at Etihad Stadium on 29 November.
The FA accepted the Spaniard's explanation of the incident but reminded him of his responsibilities.
Redmond, 23, has said Guardiola was "very complimentary" towards him.
The Spaniard appeared to shout and wave his arms, while Redmond covered his mouth and seemed to respond.
"He commented on my qualities as a young English player and how he wanted me to attack his team more during the game in a similar way to last season," Redmond later said.
"I told him I was doing what my manager had asked me to do in the game. That's it."
Former Barcelona and Bayern Munich boss Guardiola said on Friday: "I cannot control myself. I have to do that, hopefully I can improve."