If a Champions League game is played without the Champions League music, did it really happen?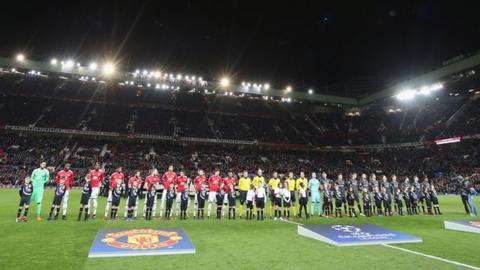 For some, Tuesday night may have been the most anticipated moment of their year.
Watching Manchester United play in the Champions League at Old Trafford.
Many CSKA Moscow fans had travelled more than 2,000 miles to Old Trafford but one or two may have left sorely disappointed.
A technical hitch meant the famous rousing Champions League anthem we all like to belt out in our best operatic voices wasn't heard.
The players stood lined up waiting for the music, but it never came.
Instead, the mascots gave the flag of the Champions League logo a quick waft, and the handshakes ensued.
People on social media were pretty upset about it.
Some even questioned the legitimacy of the match...
There was anger...
One person called for the match to be postponed...
Some even blamed the standard of the action on the lack of anthem...
Others just didn't know what to say...
But all was not lost - there may have been relief from this person, who had been having a serious case of FOMO....
Don't worry - you didn't miss anything Liam.
Lesson learned for the sound technicians at Old Trafford.