Benevento: Bottom of Serie A but now the most talked about team in Italy
By James Horncastle
European football writer
Last updated on .From the section European Football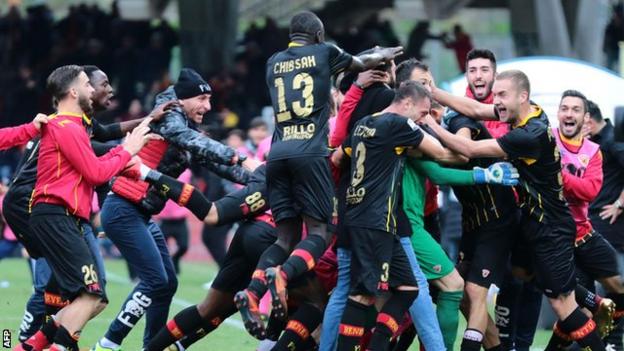 The same instincts that led Massimo Taibi to make many saves throughout his career meant he immediately sensed what must have happened. His phone was ringing off the hook.
"It was like I'd scored all over again," he wrote in La Gazzetta dello Sport.
In England, Taibi is known - a little harshly - as the 'Blind Venetian' for the mistakes he made during his brief spell at Manchester United. In Italy, however, he is remembered more favourably.
Until Sunday, he was the last goalkeeper to score in Serie A, having famously headed in an equaliser for Reggina against Udinese two minutes from time.
That was in 2001, shortly after he returned to Italy to rebuild his career.
At the time, nobody could quite believe it, and you could understand why. It happened on April Fool's Day.
Good at being bad
On Sunday, Benevento were 2-1 down to seven-time European champions AC Milan.
As the game went into stoppage time the newly promoted side were just seconds away from a new low.
Benevento had already made the worst start to a season in Serie A history, doubling down on the seven defeats Venezia and Legnano opened the campaign with in 1949 and 1951.
And when Juventus came back from behind to beat them in Turin a month ago, they equalled a record many Manchester United fans probably didn't know belonged to them.
United failed to pick up a single point in the first 12 games of the 1930-31 season. The run was long forgotten in Europe's top five leagues' hall of shame.
That is, until Benevento came along.
If they fell to defeat again on Sunday they would match the longest losing streak in absolute in Serie A; Brescia's 15-game slide between February and May 1995, which is redeemed only in the eyes of history by the debut granted to a teenage Andrea Pirlo.
The 92nd-minute free-kick given away just to the right of Milan's penalty area offered a feint glimmer of hope they might be able to avoid it.
'I don't believe it'
At this precise moment the Benevento bench starts shouting: "Sali! Sali!" at goalkeeper Alberto Brignoli. "Get up! Get up!"
He had been playing on the half-way line for the last five minutes anyway.
Down to 10 men, Milan were defending in and around their own penalty. Nikola Kalinic, the former Blackburn Rovers striker who might ordinarily be expected to stay up and give Milan a threat was also at the back.
Benevento had never scored more than once all season. But as Danilo Cataldi whips the ball in, something truly amazing happens. "I jumped and closed my eyes," Brignoli explained. "It was more the dive of a goalkeeper than a striker."
Brignoli's header caught goalkeeping wunderkind Gigio Donnarumma flat-footed and settled in the bottom corner. The Vigorito went crazy.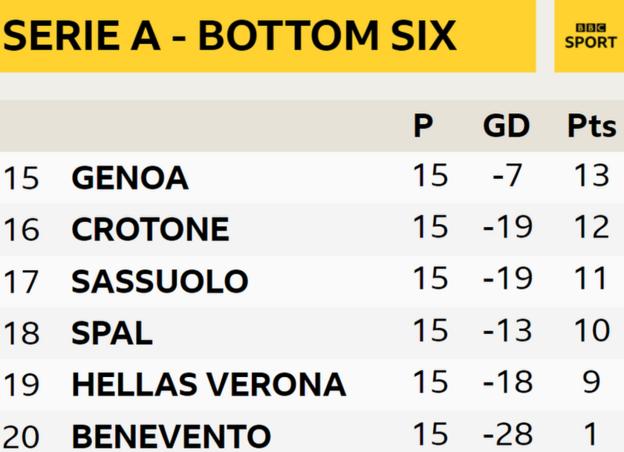 To former team-mate Emiliano Viviano, Brignoli resembled Oliver Bierhoff, the former AC Milan and Udinese striker who, for years, held the record for headed goals in Serie A.
The comparison Brignoli liked most, though, was straight out of Blue Planet. "A dolphin. It's a beautiful and appropriate comparison," he said. "Perfect for a goalkeeper."
He becomes only the fifth goalkeeper to score in Italy's top flight after Lucidio Sentimenti, Antonio Rigamonti, Michelangelo Rampulla and Taibi.
In the end all Brignoli's goal clinched was a point. And yet it felt like so much more. It was Benevento's first ever in Serie A. But judging by the joy it brought, the tears it jerked, it could have easily been nine or 10.
That's how many points Benevento feel they should have after 15 games. They have been desperately unlucky at times this season.
Benevento's last seven Serie A results
| Date | Team | Result |
| --- | --- | --- |
| 22 October - home | Fiorentina | 0-3 |
| 25 October - away | Cagliari | 1-2 |
| 29 October - home | Lazio | 1-5 |
| 5 November - away | Juventus | 1-2 |
| 19 November - home | Sassuolo | 1-2 |
| 27 November - away | Atalanta | 0-1 |
| 3 December - home | AC Milan | 2-2 |
The Damned United
In October, the mayor of Benevento Clemente Mastella expressed his regret that the city was becoming a byword for being terrible at something purely on account of the football club's woeful results.
The former Inter and Udinese manager, Andrea Stramaccioni now with Sparta Prague, upset a lot of Benevento fans when he told Czech journalists they should maybe think twice about overreacting to his team's bad run. "It's not like we're Benevento," he said.
Your heart bled for them. Their fairytale story of back-to-back promotions was turning into a nightmare.
Reaching Serie A for the first time ever was supposed to be a moment to savour. Not leave a sour taste in the mouth.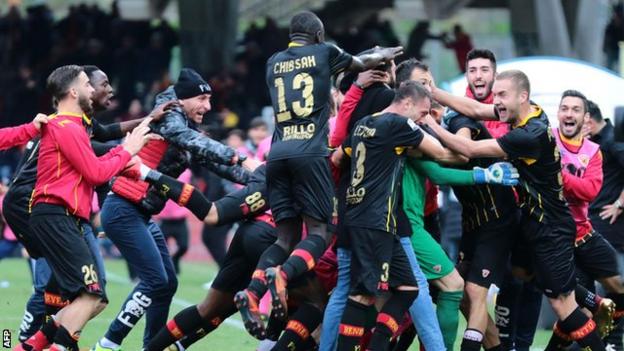 Benevento's rise brought succour to a city, about an hour and a half's drive east of Naples, that had suffered greatly when flooding caused €1.2bn worth of damage to the region in 2015. They were a symbol of hope and offered an escape from life's problems for 90 minutes a week.
Now they were a laughing stock. A punch-line. And clubs like Napoli used Benevento as a reason why Serie A needs to return to an 18-team format. Less quantity. More quality.
Benevento's owner Oreste Vigorito hit back, pointing out Benevento had actually out-spent Napoli and seven other teams in the summer.
The trouble was it looked like a terrible waste of money, particularly when Benevento lost 6-0 at the San Paolo in September.
Results like that did nothing to discourage the idea of Benevento being out of their depth. And when Marco Baroni got the sack a month later, the name of his replacement did not inspire great confidence.
Roberto de Zerbi was a continuity appointment of sorts. His only top flight experience came at Palermo last season where he was fired after losing seven straight. Perfect for Benevento then, or so the joke went.
In the meantime, captain Fabio Lucioni tested positive for the banned substance clostebol. He is appealing against the decision and hopes to be cleared. The substance in question was in a spray used to treat a graze.
All it did was deepen the feeling Benevento were the Damned United.
And yet it's not like they have been out-played every week. Eight of their 14 defeats have been by one goal.
And if Serie A hadn't been experimenting with Video Assistant Referees, Benevento would have registered their first point back in August.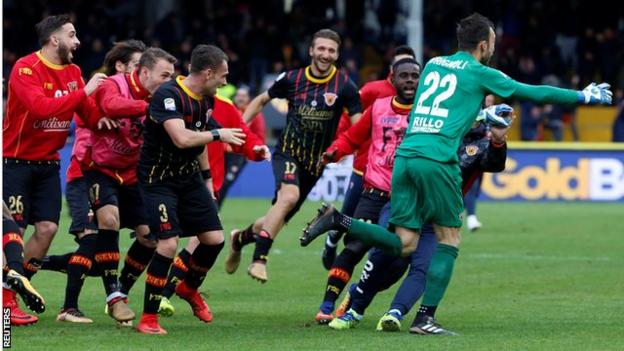 What made Brignoli's equaliser all the more satisfying on Sunday is the number of times his team has lost in stoppage time themselves, often in comical circumstances.
In October, Benevento drew level with Cagliari in injury time only to concede again with seconds to spare.
Then three weeks ago their wait for a point again looked over when Sassuolo's Domenico Berardi missed a penalty in added time. All Benevento had to do was see out one last corner. But even that was beyond them.
Brignoli made a Taibi-like gaffe in that game.
But De Zerbi retained faith in him and was rewarded on Sunday. On returning home that night, Brignoli received a hero's welcome. There was a banner and a bottle of bubbly waiting for him outside his apartment.
Sprayed in red paint was the message: "GRANDE ALBERTO!!! THANK YOU!!!"
Reflecting on Brignoli's goal, Taibi recalls how the one he scored for Reggina very nearly helped keep them up.
"Even if we lost our next two games, from that moment our season changed. It created a positive atmosphere around the club and we fought for survival right until the end…"
It didn't stop Reggina being relegated in a play-off with Verona. "But those last two months were special," Taibi said.
For now, all Benevento have got is a point to their name. The number one. The same as a goalkeeper wears fittingly.
They may be last but Brignoli's goal is arguably one of the first things people will remember about this season in Serie A for years to come.