Brighton v Crystal Palace: Police apologise for 'incorrect' weapons claim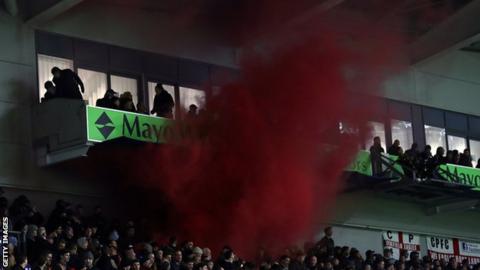 Sussex Police have apologised for wrongly claiming weapons were found after crowd trouble during Brighton's Premier League home game against Crystal Palace last week.
Six people were arrested and two stewards were taken to hospital after the two sides met on 28 November.
Sussex Police said the next day that some fans had attempted to attend the game with "knives and knuckledusters".
But they now say no such items were recovered at the stadium.
"Sussex Police apologises to both clubs and their supporters," a statement said.
"The reference to weapons being found discarded at the stadium following the Brighton v Crystal Palace match on November 28 was based on information logged by our officers on the night and done so in good faith.
"Subsequently, it has been established that no such items were physically recovered at the stadium or in the city. We accept that this information was incorrect."
The statement was published on the same day a Palace supporters' group issued a Freedom of Information request in relation to the claim Eagles fans were in possession of offensive weapons.
Sorry, this content is no longer available.
"Full credit to the Five Year Plan fanzine for their investigative journalism," said Football Supporters' Federation caseworker Amanda Jacks.
"Credit also to Sussex Police for admitting their mistake and issuing an apology.
"Whilst accepting and appreciating the apology, a large number of supporters on social media are now questioning whether or not they've got the accountability.
"The statement caused a lot of cynicism when it was first released, not least because football supporters do not habitually carry knives.
"I think this episode demonstrates the importance of general media scrutiny and not reporting things at face value."