Premier League: Saturday night games among 200 on TV from 2019-20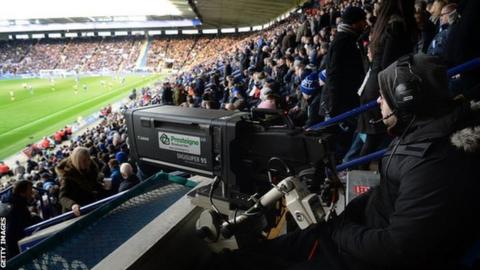 Eight Premier League games will be played in a new 19:45 slot on Saturdays under the terms of a new broadcast package from the 2019-20 season.
Broadcasters will bid for rights to show 200 live matches, more than 50% of the league's 380 games and an increase on the current deal's 168.
The new package will also allow successful bidders to broadcast rounds of midweek matches in their entirety.
It will replace the existing record £5.136bn TV deal struck in 2015.
The new kick-off times on Saturdays will likely mean matches are shown at the same time as prime-time favourites such as Strictly Come Dancing and X-Factor.
All matches in three midweek rounds per season, and one Bank Holiday round per season, will be broadcast live.
The three-season agreement for 2016-17 until 2018-19 represented a 70% increase on the previous £3bn deal.
Sky paid £4.176bn to show 126 matches, including the first Friday evening games and both Sunday packages, and BT paid £960m for 42 games.
No single buyer will be allowed to acquire more than 148 matches per season. The auction for rights is to be held in February, according to reports.
Rights to show free-to-air Premier League highlights will form part of a separate broadcast package.
Football Supporters' Federation chief executive Kevin Miles said more must be done to support away fans.
"We do not want to see more games on live TV as this makes life increasingly difficult for away fans in particular," he said.
"Unfortunately an Ofcom ruling dictated that more games would be broadcast but the clubs must do more with their huge TV revenues to make things easier for travelling supporters."
Analysis
Dan Roan, BBC sports editor
Supporters' representatives are concerned that this new Saturday evening slot will make it hard for away fans when it comes to travel arrangements, and that more games on TV in midweek could affect crowds at smaller clubs who are playing at the same time.
But it will be interesting to see what ratings these fixtures enjoy when up against prime-time blockbuster terrestrial shows such as Strictly and X-Factor.
The big unknown is whether digital giants such as Amazon and Facebook - both of whom are much bigger than current rights holders Sky and BT in terms of market value - decide to enter the bidding.
Despite recent moves into sports rights by these new players - and a meeting between the Premier League and Netflix - industry experts seem to sense this may be a deal too soon for them. But their mere presence may be enough to ramp prices up even further.
With overseas appetite for Premier League coverage showing no signs of slowing down, there have been fears that the value of domestic TV rights may have peaked. But with 19% more matches on offer after Ofcom ordered the Premier League to make more available and give consumers more choice, this could tempt Sky and BT to pay even more in total, but perhaps less per match.
What can broadcasters bid for? (all times GMT/BST)
Package A: 32 matches on Saturdays at 12:30
Package B: 32 matches on Saturdays at 17:30
Package C: 24 matches on Sundays at 14:00 and eight matches on Saturdays at 19:45
Package D: 32 matches on Sundays at 16:30
Package E: 24 matches on Mondays at 20:00 or Fridays at 19:30/20:00 and eight matches on Sundays at 14:00
Package F: 20 matches from one Bank Holiday and one midweek fixture programme
Package G: 20 matches from two midweek fixture programmes