Europa League will be tough for Celtic, says Craig Gordon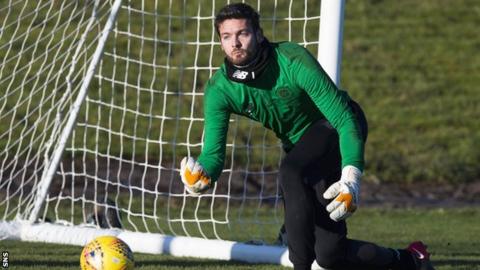 Craig Gordon believes it will be a tall order for Celtic to progress to the latter stages of the Europa League.
Goalkeeper Gordon was talking about the calibre of potential opponents after Celtic qualified by finishing third in their Champions League group.
"We'll see who we get in the draw on Monday, but there are a lot of big names in the Europa League," he said.
"It's still a very difficult competition with a lot of great players and great clubs."
Celtic will be unseeded when the draw for the Europa League knock-out stage is made on Monday.
"We'll go in against whoever we get and try and get to the next round," Gordon said.
"It's still going to be a big ask to keep progressing in that competition when you see the standard of some of the clubs.
"We've still got a transfer window before then, so we could be going in as a stronger club if we get a few players in."
Gordon is unconvinced by the notion that the step up in challenge between domestic and European football works against Celtic.
"At times, we've done well in some of the games and played well," he said.
"We managed to win away from home for the first time, we retained the ball a bit better than last year, so in some ways I think we have improved.
"We need to continue to improve to compete at that level."
Manager Brendan Rodgers says they will still be competing with clubs who are "a world away in terms of finances".
The Scottish champions dropped into Uefa's second tier tournament after finishing behind Paris St-Germain and Bayern Munich and ahead of Anderlecht.
Celtic were the only team who qualified for the group stage via the 'champions' route' to finish better than bottom.
However, the Celtic manager says even the lesser European competition is an uneven playing field.
"That'll be very, very tough in terms of where we sit and the finances involved in the game," he said.
"You only need to look at the list of teams - it's very exciting, but they're a world away in terms of finances.
"The likes of Atletico Madrid, Borussia Dortmund and Napoli - these are teams that were vying to win the Champions League.
"We've measured up really well in terms of where we're at, but those clubs will be bitterly disappointed they haven't gone through in their group."
Rodgers stressed his belief that it was unrealistic to measure his side against PSG or Bayern, who qualified for the knock-out stage of the Champions League from Celtic's group.
"If you look at the teams we should be measured against - the likes of Ajax, who didn't even qualify, Benfica, who are running away with their league in Portugal and ended up with no points, whereas we're the only team to qualify through the Champions route and go on into the Europa League," he added.