Hibernian head coach Neil Lennon not banking on Celtic 'fatigue'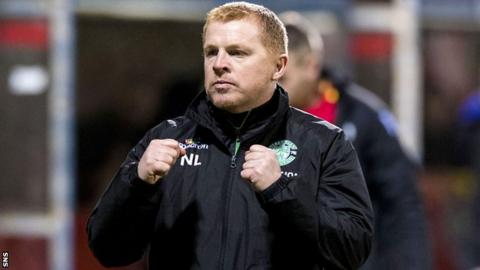 Hibernian head coach Neil Lennon does not expect Celtic to be suffering from much Champions League fatigue when they visit Easter Road on Sunday.
Celtic bowed out of the competition with a midweek defeat by Anderlecht.
Hibs host the Premiership leaders before taking on Rangers, also at home, then Aberdeen away.
"We need to have a good day and some of their players need to have an off day for us to come through this one," Lennon said of the meeting with Celtic.
"If there is any mental fatigue we must try and take advantage of that. I don't think there will be a lot because they've had the game Tuesday, they've got an extra day now with the game being on Sunday.
"You're not going to get bigger tests than the ones we've got this week.
"You want to play against the best. As a player you did and certainly as a manager, you relish these games. There's no pressure but you put yourself under your own pressure and we'll be making the usual demands of the players as well."
'We need to go better'
Though Celtic have lost six of their 12 European games this season, they are unbeaten domestically in 67 matches - 66 of which have been on Brendan Rodgers' watch.
"It's a fantastic run," said former Celtic manager Lennon. "It's testament to the mentality of the players, the never-say-die attitude, and also the abundance of quality that they have in their squad as well. Very good individual players and a really good collective. Allied to that, they've got a brilliant manager as well.
"They've been imperious, really. Four trophies in a row - excellent. Incredible achievement.
"It looks like they'll probably - barring a disaster - win the league so they could be looking at another treble. So, it's up to us, the rest of the chasing pack, to put a dent in that in some way and certainly give them more competition domestically to take that on into the Europa League campaign for next year."
Hibs drew 2-2 at Celtic Park earlier this season but lost 4-2 at Hampden in their League Cup semi-final meeting with Rodgers' side.
"We played really well at Celtic Park," Lennon said. "We played reasonably well, particularly second half, at Hampden.
"We've shown we can score but we need to go better. We need to find that little bit of extra quality at times.
"I felt that in the semi-final, they just did the little things that bit better than us and that's something that we need to improve on if we're going to beat them."
Aberdeen boss Derek McInnes will be staying at Pittodrie following an unsuccessful approach from Rangers this week, with former Ibrox midfielder McInnes saying on Friday he "wasn't prepared to walk away" from the Dons.
And Lennon commented: "I don't know if he actually had the chance to speak to Rangers or not. He seems very happy at Aberdeen. He's done a fantastic job there. I thought he was the odds-on favourite. He'd have been my choice to take the Rangers job on.
"It's a sign of the times, sign of the times."