Not all heroes wear capes. They wear bobble hats and Santa suits too...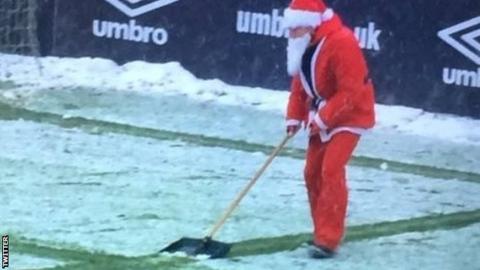 Ahh the Great British winter and all that it entails.
The sound of grit bouncing off tarmac into your hubcaps, the feeling of soggy socks because you are not equipped for the inevitable slush, and the annual tweet from your local football club asking for volunteers to help clear the snow from the pitch.
However, it was 80 minutes into Macclesfield Town's National League tie with Wrexham when a jolly bearded man in a red suit took to the pitch with a shovel.
Meanwhile at Oldham Athletic - whose League One fixture against Northampton Town was in danger of being postponed because of the cold snap - players, ground staff, coaches, office staff, stewards and volunteers all mucked in to clear snow off the pitch.
Sorry, this content is no longer available.
We do love a bit of community spirit and it was in abundance at Chester too when they appealed to local wheelbarrow owners to help out.
Great work everyone. Now go and treat yourselves to a brew...