Aberdeen: Stewart Milne would not have stood in Derek McInnes' way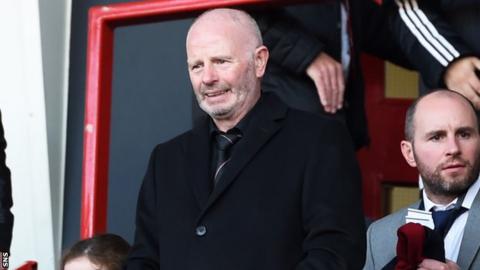 Aberdeen chairman Stewart Milne says he would not have stood in Derek McInnes' way if he was fully committed to moving to Rangers.
McInnes decided to stay at Pittodrie on Thursday, after taking time to consider his options.
Rangers made a formal approach for permission to speak to him on Tuesday, but were rebuffed earlier in the week.
"If Derek was 100% convinced it's what he wanted to do, we would have found a way to make it happen," Milne said.
After Rangers' request was turned down, there was a view that McInnes would have to resign to enable any move to take place.
Milne insists that would not have been the case, and also revealed that compensation would not have been an issue.
"The inference was there that they would meet the compensation that is in the contract," Milne told BBC Scotland.
"I very much value what Derek McInnes has done for Aberdeen over the last five years. I have massive respect for Derek as an individual. I know how committed a guy he is.
"If he had been able to convince me that he definitely wanted to go for the job, I would have sat down with the board and one way or another we would have found a way to make that happen.
"It's not something we would have wanted to do, but out of respect for Derek and what he's contributed over the years, we would have found a way. I have far too much respect for Derek to create an impossible situation that was going against his will."
McInnes missed training for two days as he decided his future, but eventually pledged it to Aberdeen on Thursday afternoon and was in the dugout for Friday's 1-0 win over Dundee.
Rangers released a statement on Thursday evening in which the club said: "We were subsequently made aware by Aberdeen's statement that, at this stage in his career, it would be best for him to remain in his current post. We endorse that position because moving to a massive club like Rangers is a big step with concomitant risk."
Milne, though, says it was wrong if any doubt was being cast on McInnes' management ability.
"In their own words, they see Rangers as a massive club," Milne said. "That was a very important event. There was undoubtedly a need for a strong statement to reassure everyone associated with the club, and there was a need for someone who holds power and authority at that club to attach their name to a statement like that. I found that one of the strange things.
"Over the last five years I've got to know Derek McInnes as well as anybody does and I would put his capability alongside any manager that they are likely to spring out.
"I rate him not just as a good football manager but alongside any of the top people I employ within the Stewart Milne Group. Derek has a management capability that goes way beyond just the norms of a football manager. That's why we rate him and value him so highly at the club. We get Derek's input into almost every single aspect of what we're doing."
Milne says McInnes was initially moved by the emotional prospect of taking over at Rangers - the club he grew up supporting and spent five years at as a player - and the Aberdeen board gave him time and space to consider his options.
'We've always had a good relationship with Rangers'
The Aberdeen chairman believes the speculation about McInnes "had an effect on our club, the last two or three weeks in particular" but stresses that relations with Rangers will not be damaged by recent events.
"We've all got to be capable of dealing with difficult situations. That's the world of football," Milne said.
"If we were going to get upset with every major thing that goes wrong in the game, we would all just get bogged down.
"We've always had a very good relationship with Rangers, we'll work hard to make sure that we come through and relations are strengthened as we move forward.
"We all want to see a strong Rangers, we need that for Scottish football, and the sooner they fill their vacancy and get a good manager in and strengthen the whole set up, that's in the interests of Scottish football."