Paul Clement: Swansea City must build on win, says boss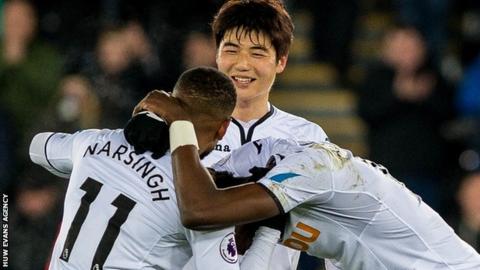 Head coach Paul Clement has urged Swansea City to build on their victory over West Brom which lifted them off the bottom of the Premier League table.
Wilfried Bony's goal gave the Swans their first league win since October.
The result also lifted some of the scrutiny on Clement, whose side had mustered just one point from their previous seven games.
"I don't think it takes pressure off, it's more about building confidence at a time we really needed," he said.
"Confidence can come and go, it's never a set level. It's been down recently but the players stood up today put a lot of effort in.
"Some of the football was good, some of it not so good, some was really positive, some was apprehensive, in the end the most important thing was to get the positive result.
"Hopefully we can build on it but we've said this before - Huddersfield and Bournemouth were both opportunities to build on and we haven't taken them. Today we grafted for the victory, we got it and now we have to move forward."
Clement was appointed in January with Swansea at the foot of the table at the midway point of last season, and a strong end to the campaign saw him steer his side to safety.
This term, however, results had deteriorated badly, with the Swans winning just two and losing 10 of their first 15 Premier League fixtures.
The relief was therefore palpable when Bony struck an emphatic late winning goal against West Brom.
Having insisted before the match that he was the man to turn Swansea's season around, Clement reiterated that he did not fear losing his job.
"I don't think like that," said the former Bayern Munich assistant manager.
"I would have been worried to have come in and seen the other results and us still on nine points with three games to go until halfway, that would have been my concern.
"But not about my position."
One of Swansea's American owners, Jason Levien, was in the Liberty Stadium crowd for the game against West Brom.
He and fellow majority shareholder Steve Kaplan tend only to make occasional trips from the United States for Swans fixtures but Clement viewed his presence as an encouraging, rather than ominous, sign.
"I speak to Jason. He came to support the team," said Clement.
"I had a long conversation with Steve the other day, he wanted to come over and show his support and get behind the team.
"He came in to see me before the game and I'll enjoy a nice cold beer with him now and on we go. Let's get ready for Manchester City [on Wednesday]."