Mickey Thomas backs Ryan Giggs for Wales job despite fans reservations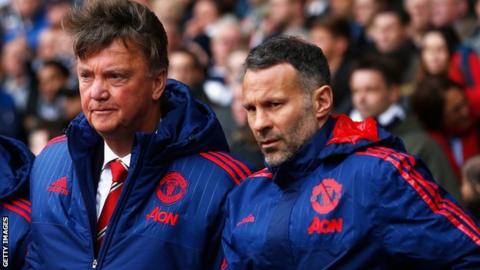 The Football Association of Wales (FAW) should appoint Ryan Giggs as national coach despite the opposition of some fans, says Mickey Thomas.
Giggs has declared his interest in the role vacated by Chris Coleman.
His regular absence from friendly internationals during his career upset some fans, but ex-Wales midfielder Thomas says he is the ideal candidate.
"Why not give it to Ryan Giggs with his experience, I think he'll be just the man for the job," said Thomas.
"For me he has a stigma against him from some Welsh fans."
Giggs made 64 appearances for Wales but carried on playing for Manchester United for seven years after retiring from international football.
He ultimately played 963 times for United and is the most decorated footballer in history with a medal haul including 13 Premier League titles, four FA Cups and two Champions Leagues.
The bookmakers made Giggs, 44, favourite to replace Coleman when he left the national team role to become Sunderland boss.
But within 10 minutes of Coleman's announcement, the first #AnyoneButGiggs tweet was also sent.
And in the next 72 hours, 220 people used this hashtag, with a reach of more than 200,000 Twitter users, according to social media analytic tool Spredfast.
The FAW hopes to appoint a successor to Coleman in time for the draw for the Nations League on 24 January.
Thomas, like Giggs, played for United and Wales and believes the success at Old Trafford when Giggs was playing has to be taken into account in judging his commitment to the national team.
"He missed friendlies, but you have to understand he was playing for the biggest club in the world and there were some very important matches - he turned up for the most important Wales games," said Thomas.
"I hear people say he wouldn't get the respect of the players, but without doubt he would.
"If he walked in that dressing room he would get the respect, no matter what he's done off the pitch - it's what he's done on it as a football player.
"He's been outstanding, he's got more medals than anyone else, and he's worked with some of the top managers and if he wants to be manager of Wales, why not?
"I would be really be delighted with that. He's proved it in the past as a Wales player and now he's proved with a statement that he wants to be manager. Let's get it on."