Pep Guardiola: Paul Clement says Man City boss is a 'pioneer'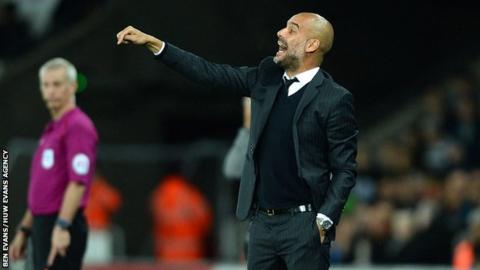 Swansea boss Paul Clement has described Pep Guardiola as a "pioneer" ahead of their game against the league leaders.
Manchester City's 2-1 derby-day win was the 14th successive top-flight victory for Guardiola's side - a new record.
"I think there have been certain coaches going back through the decades of football who have been pathfinders, pioneers," said Clement.
After Crystal Palace climbed off the bottom by beating Watford, Swans returned to the foot of the table.
Clement's side will be hoping to build upon their win over West Bromwich Albion against Guardiola's Manchester City on Wednesday.
Football's pioneers
"In my time I'll go back to [Arrigo] Sacchi at AC Milan in the 1980s. He was a real pioneer in terms of what he was doing with his 4-4-2 and pressurising teams, and European Cups followed.
"Guardiola for me is another example of a real pioneer. What he did with possession based football at Barcelona, high pressing, he's a real leader in the new age of football - I've got a lot of respect for him."
Clement likened the current Manchester City side to Guardiola's quadruple-winning Barcelona team.
"I've been very interested in the way he's done things with his teams, especially over the Barcelona years," he said.
"What you can see in his second year at Man City is that his team are now much more like Barcelona.
"He had four trophies in his first year, that just shows the level he was able to achieve, and that was down to both his ability and of course the quality of player he has at his disposal."
Proving doubters wrong
Clement added that Guardiola's success across different leagues makes him "one of a handful of the very best" managers in the world.
Despite not winning the Champions League with Bayern Munich, Clement believes Guardiola's time at the club "completely revolutionised the style" of domestic football in Germany.
"He has very specific beliefs and a style, and he's turned it into a winning formula.
"A lot of people doubted whether he could take that football into the high-paced, intense nature of the Premier League, but he's showing at the moment it's working here as well."